Banned jockey Nikolic applies for new licence
Australia: Controversial jockey Danny Nikolic, who is serving a ban for threatening a steward, has applied to the Racing Victoria board to get his licence back.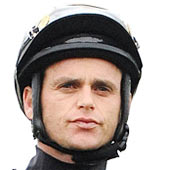 Danny Nikolic: banned for threats
PICTURE:
AAP Racing
Chief steward Terry Bailey, subject to "contemptible and sinister" threats from Nikolic at Seymour racecourse in September 2012, confirmed the suspended jockey's intentions to return to race-riding.
"We have an application for his jockey licence," Bailey told racing.com. "Danny is still under suspension until the end of September so that will go through the normal processes like any other application.

"We have a sub-licensing committee that make recommendations to the board, anything that is controversial or has any doubt around it goes to the board for their consideration.

"Ultimately it will be up to the Racing Victoria board to approve it."

Nikolic, whose bountiful big-race haul includes the 2003 Caulfield Cup on Mummify, has had a turbulent career and is currently under investigation for financing a betting account held in the name of girlfriend Tania Hyett, which heavily laid beaten favourite Baron Archer to lose at Echuca in March.

"The stewards are continuing their probe into the betting activities on the bet exchange Betfair," Bailey added.

"Tania Hyett has been asked to produce further records and Danny Nikolic is yet to be interviewed but that will be in the next week or so."

Baron Archer's trainer Jason Warren received a $17,500 fine on Friday after pleading guilty to intentionally failing to report that the horse underwent throat surgery and then making a false or misleading statement during a stewards' inquiry.