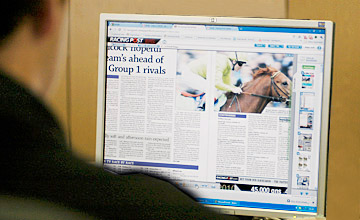 You can read the Racing Post digital newspaper anywhere in the world
Introducing the Racing Post digital newspaper
Going abroad on business or on holiday? Struggling to get your hands on a copy of the Racing Post?
We've all been there, and it can be frustrating.
Happily, the Racing Post now has a new digital newspaper edition so you can enjoy every page of the newspaper on your computer. Plus it has some great features...
You can easily translate the pages into many different languages, use powerful searches, set up alerts for particular words and even have interesting articles read out aloud to you.
So wherever you roam you can have the Racing Post hot off the press and in your hands by 0300 GMT.

We're sure you'll agree there's no faster or better way to be in the know.