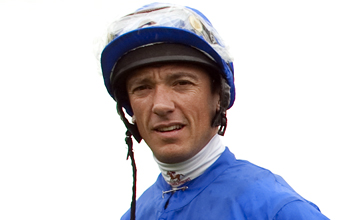 Frankie Dettori: had five rides booked on the Gold Cup day card at Ayr
PICTURE:
Edward Whitaker(racingpost.com/photos)
Dettori misses first ride after flight mix-up
FRANKIE DETTORI missed his flight to Scotland on Saturday morning and, although he was still hoping to make it to Ayr, was forced to miss his first ride on the card in the William Hill Silver Cup. He was replaced on Hajoum by PJ Mcdonald.
Dettori was at Stansted Airport in sufficient time but discovered when trying to board that he did not have an acceptable form of identification and will now travel up on a later flight.
"I've had a bit of a nightmare," he said. "I went to Stansted and queued up for my flight and found out you can't fly with your driving licence anymore, so I had to run back home. I've got to travel on another flight now but I might miss my first ride. I've got to go back to Stansted again.
"The rules [on driving licences] changed in the last six months, but I didn't know. It was pretty embarrassing in front of 300 people."
Dettori had five rides on the card. He missed the first on Hajoum in the Silver Cup at 2.15. His other mounts are Ragsah in the Laundry Cottage Firth of Clyde Stakes, Redford in the William Hill (Ayr) Gold Cup, Vesuve in the Williamhill.com Doonside Cup Stakes and Colepeper in the Williamhill.com Ayrshire Handicap.