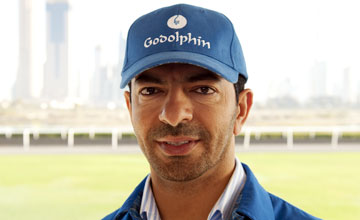 Saeed Bin Suroor: his Stanley House stables have been visited by the BHA
PICTURE:
Edward Whitaker (racingpost.com/photos)
BHA testers extend probe to Bin Suroor yard
THE BHA drug testers on Thursday turned their attention to Saeed Bin Suroor's Stanley House stables in Newmarket as the crisis that has rocked Godolphin and British racing took an unexpected new twist.
The sampling of horses at disgraced former trainer Mahmood Al Zarooni's stable at Moulton Paddocks has been completed, but while the results are not expected for several weeks, interviews with his staff are continuing.
Bin Suroor's yard was not visited by testers in the wake of 11 of Al Zarooni's string testing positive for anabolic steroids on April 9, and there were no official suggestions they would be.
However, Gerard Butler fuelled the scandal with his admission this week he had administered steroids, and his stable became the focus of a separate investigation with the potential to embroil a number of other Newmarket yards.
The regulatory body confirmed on Thursday it had extended the testing programme to the entire Godolphin operation.
BHA spokesman, Robin Mounsey, said on Thursday night: "We can confirm that, for the sake of completeness, we are conducting testing in training at the yard of Saeed Bin Suroor, although there was no reason to link the two yards because of the common ownership by Godolphin."
Read more on the latest developments in Friday's Racing Post - available on the iPad from 10.30pm on Thursday