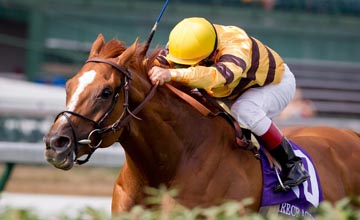 Wise Dan: is currently the best horse in America on any surface on RPRs
PICTURE:
EquiSport Photos
Time for Wise Dan to step up to Grade 1 level

WORLD CLASS: an analysis of the international scene according to Racing Post Ratings
TRAINER Charles Lopresti needs to raise his ambitions for Wise Dan. This was the best dirt horse in the world last year according to RPRs and he currently ranks as the best horse in America on any surface.
He is classy, consistent and incredibly versatile, but he won't be considered Horse of the Year material until he runs in some meaningful races.
The five-year-old started this season by breaking the track record in a Grade 3 on the Polytrack and on Saturday he totally outclassed his rivals in a Grade 2 turf handicap.
'What more do I have to do,' he whinnies at his handler, as Lopresti casually mentions the Grade 2 Bernard Baruch, again on turf, as a potential next target.
To be fair, Lopresti also mentioned the Woodward Stakes and the Woodbine Mile, but to even consider running him in another Grade 2 is selling the horse short.
This is, at present, the best horse in America on any surface and he needs to be campaigned as such.
Racing is not about what you can do, but what you do with it. Wise Dan might have shown an awful lot of ability, but it will matter little until he repeats it on the big stage.
I'll Have Another is the closest horse to Wise Dan in the ratings this year, but the youngster achieved his figures in far more important races (Santa Anita Derby, Kentucky Derby and Preakness) and therefore totally outshines the five-year-old in the Horse of the Year standings. It is time for Wise Dan to step up.
Until recently there were three legitimate reasons Lopresti might have chosen the quiet route for Wise Dan.
Firstly, he has tried all season to keep Wise Dan and half-brother and stablemate Successful Dan apart. But now Successful Dan is out for the season it should be high-profile races all the way for the brother Wise.
Secondly, the first half of the US Grade 1 calendar is all handicaps. Being at the top of the tree meant Wise Dan would have copped a lot of weight in those races, as he did in the Stephen Foster, when beaten a nose carrying 4lb more than the winner.
From now on there are Grade 1 level-weight options right through to November (Breeders' Cup, Pacific Classic, Woodward, Jockey Club Gold Cup, Awesome Again, Woodbine Mile, Shadwell Turf Mile).
The third reason he may have been kept under the radar is that Lopresti thinks he may be better on turf and synthetics than he is on dirt. There is no proof of this. On RPRs he is equally capable on all surfaces and his dirt form is rock solid.
Of course, he appears comparatively better on turf than dirt, but that's because comparatively US turf horses are weaker than US dirt horses. Comparatively, he would be even better against headless chickens.
Horse of the Year voters are well aware of the difference in quality of the various divisions and that's why synthetics and turf horses rarely get a look in at the top Eclipse prize.
As far as the Eclipse awards are concerned, despite a low-key start to the year, Wise Dan could still win in a few categories.
It will be tough to beat I'll Have Another for outright HOTY honours but two Grade 1 wins and the Breeders' Cup Classic would put him in with a shot.
If he doesn't win the Classic, there is no combination of Grade 1 wins that would allow Wise Dan to usurp the three-year-old double-Classic winner as Horse of the Year.
Champion older male is on the table, as is champion male turf horse. The turf prize would probably require a couple of G1 wins on turf, as at present he only has a G2, while the older male award will require some high-profile G1 wins, as at present he has none.
As we enter the second half of the season every run counts. Lopresti rightly states that he has lots of options for Wise Dan. He does. The horse could win almost anywhere on any surface.
But wherever he goes next it is time to step it up a notch. He's proved his versatility beyond question. Now it's time to cement his status at the top of American racing.
On Saturday he strolled to an effortless five-length win in the Fourstardave Handicap.
He went the shortest route up the rail and waited for a gap to appear up the straight. When it did he quickened away tidily under a hand ride, securing an RPR of 127+. It was very easy.
That effort means he now tops the dirt and all-weather standings for 2012 and he also sneaks in to the top turf performers list. He is the first horse to feature on all three lists this late in the year.
Excelebration was the best in Europe this week, posting an RPR of 124+ for his success in the Prix Jacques le Marois. Best known as Frankel's whipping boy, this performance shows just why Frankel is so great: Indisputable hierarchy.
The bare form was not as strong as it might have been given the number of Group 1 winners in the line up, with just a length-and-a-half separating the first five home. Fifth placed Casper Netscher is the obvious limiter to the form.
TOP OF THE CLASS: Wise Dan 127+ Charles Lopresti (US) (Fourstardave Handicap, Saratoga, 1m, Aug 11)
TOP LIST
TOP TURF PERFORMERS
TOP DIRT PERFORMERS
TOP ALL-WEATHER PERFORMERS
Got a smartphone? Check out our new mobile web app - featuring cards, results, betting, tips and more - just type m.racingpost.com into your phone's web browser