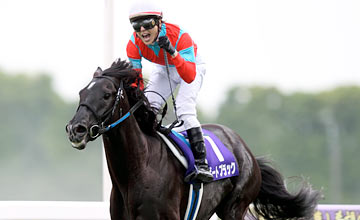 Beat Black: stole the Tenno Sho from the front to score at odds of 159-1
PICTURE:
Masakazu Takahashi
Pace problem brought to attention in Tenno Sho

WORLD CLASS: an analysis of the international scene according to Racing Post Ratings
Japan isn't the only country in the world where they have a problem with middle-distance pace but there is definitely a problem and it was highlighted again on Sunday.
Orfevre was long odds-on to land the prestigious Tenno Sho (Spring) but the prize went to 159-1 chance Beat Black, who stole it from the front.
As mentioned in World Class after the Japan Cup, there was scope for a Martin Pipe-type innovator to make hay in Japan by sending horses into a wide-early lead and that is precisely what has happened this year.
The Tenno Sho (Spring) is not a solitary case. In 2012 there have been six graded races in Japan run over 1m4f or further and three have been won by budding Pipettes.
Keiai Dosojin made all to win the Diamond Stakes at 190-1 while Neko Punch was allowed a ten-length lead in the Nikkei Sho before winning by an eased-down three-and-a-half lengths at odds of 167-1.
In the other three middle-distance races (Nikkei Shishun Hai, Hanshin Daishoten, TV Tokyo Hai Aoba Sho) the horses raced in a group, so there were no breakaway pacemakers to upset the odds - but three out of six isn't a bad start for the revolutionaries.
Keiai Dosojin and Neko Punch had already shown the theory worked and from an early stage in the Tenno Sho (Spring) it looked like we were set for another upset.
This time three horses were sent around a dozen lengths clear of the field. They were given far too much rope, running at what seemed, and proved, a sustainable pace.
The real worry for favourite backers early on was that Orfevre sat near last of the main group - around 30 lengths off the eventual winner.
There are effectively two races being run here. The leaders go off in front and run an even-paced time trial, while the rest ignore them and run a separate race in a slow-fast style, which results in a slower final time than the time-trialists.
The winner of such an event is not necessarily the best horse in the race but the only one who ran at a decent, even pace.
Turning for home Orfevre was 25 lengths off the winner and 20 seconds later another graded prize had been stolen from the front - this time an important one.
You could be forgiven for being shocked at the result (a 159-1 winner by four-lengths of one of the most important races of the year) if you hadn't seen how it was achieved.
This success for front runners is step one in the journey from slow-fast to end-to-end racing. The second step should happen shortly. That's the realisation step.
The Tenno Sho is a high-profile race and, being the third Pipe-style graded race winner in as many months, all jockeys should now be on high alert.
No matter what horse is out in front, you cannot let them get away while you race snails and discuss the good old days half-a-furlong behind. The quickest route to the line is the most even one.
Step two in the revolution closes the gap between the pace horses and the field. It requires jockeys to be conscious of the pace and the horses to be prepared, if the pace dictates, to run end-to-end and let the best and fittest horse win.
Once step two has kicked in, and everyone is wary not to let any horse get a soft lead, the field will run together and every horse will have to go the early gallop, which is where racing becomes 'sustained effort'.
The benefit of sustained-effort racing is that there are no hiding places for weak horses, no silly results, no 150-1 winners and no bunch finishes.
In slow-fast races horses are only asked to race for a small portion of the actual race distance and therefore they finish closer together than they would in a true test overthe trip. This squeezing of beaten distances is termed the 'accordion effect'.
Handicapping being as it is, beaten distances matter and therefore pace matters.
End-to-end equals bigger distances which equals higher ratings. This is why some Japanese runners appear to 'improve' when they run in Europe. The accordion effect.
Japan is not the only place they have slow-fast middle-distance races and they are not the worst culprits, but recent results highlight what is possible in such nations with a little innovation.
Having already got to step one of the revolution, Japan may soon join the short list of countries who regularly race at an even pace over middle-distances.
It will be interesting to see if and when other slow-fast countries decide to shake up the system in light of what is happening in Japan.
It only takes one revolutionary before the inevitable snowball effect. Then it's a case of nicking as many races as you can before the locals move to step two.
Pace dictated the result on Sunday. The winner got the run of it while the second was better placed than the third, who was better placed than the favourite, who was disappointing.
The record shows two defeats from two starts for Orfevre in 2012, but both results might have been different with a little help from the saddle.
It is still far too soon to write off Orfevre this season and jockey Kenichi Ikezoe will be under mounting pressure to get it right next time.
Beat Black posted an RPR of 120 for the four-length win. The seventh, who also raced up with the pace, also ran to form.
The fancied horses all ran below their best but that is only to be expected after giving away such a ridiculous lead. In the end they were all well beaten by a horse whose previous best result had been to finish second in a Grade 2.
Cirrus Des Aigles posted the performance of the week in the Prix Ganay, matching his best RPR of 130+.
He certainly got things his own way on Sunday. He was granted an uncontested lead, his rivals were unproven on ground that soft and he held a three-length cushion turning for home.
The final time was not great, but he charged away from a couple of decent types in the straight and the eight-length margin leaves little doubt that he is at least as good as he was last year.
He currently sits alongside Black Caviar at the top of the world standings and looks set to provide a nice benchmark for Frankel to aim at when he steps up to 1m2f later in the campaign.
In Australia, Black Caviar ran to just 126+ when beating a weak field of fillies and mares in a 'Group 1' at Morphettville.
Ratings don't matter any more with her. She has run to 133 in the past and she could run to that again if it was required. It rarely is these days, though.
TOP OF THE CLASS: Cirrus Des Aigles 130+ Corine Barande-Barbe (Fr)(Prix Ganay, Longchamp, 1m2f110y, 29 April)
TOP LIST
| | | | |
| --- | --- | --- | --- |
| | Name (country trained) | Race | Rating |
| 1 | Black Caviar (Aus) | Lightning Stakes | 130T |
| | Cirrus Des Aigles (Fr) | Prix Ganay | 130T |
| 3 | Hay List (Aus) | Newmarket Handicap | 129T |
| 4 | Orfevre (Jap) | Hanshin Daishoten | 128T |
| | Wise Dan (US) | Ben Ali | 128A |
| 6 | Cityscape (GB) | Dubai Duty Free | 126T |
| | Monterosso (UAE) | Dubai World Cup | 126A |
| 8 | Ambitious Dragon (HK) | Stewards' Cup/HKGC | 125T |
| | Foxwedge (Aus) | William Reid | 125T |
| | St Nicholas Abbey (Ire) | Sheema Classic | 125T |
| | Caleb's Posse (US) | Carter Handicap | 125D |
TOP TURF PERFORMERS
| | | | |
| --- | --- | --- | --- |
| | Name (country trained) | Race | Rating |
| 1 | Black Caviar (Aus) | Lightning Stakes | 130 |
| | Cirrus Des Aigles (Fr) | Prix Ganay | 130 |
| 3 | Hay List (Aus) | Newmarket Handicap | 129 |
| 4 | Orfevre (Jap) | Hanshin Daishoten | 128 |
| 5 | Cityscape (HK) | Dubai Duty Free | 126 |
| 6 | Ambitious Dragon (HK) | Stewards' Cup/HKGC | 125 |
| | Rulership (Jap) | QEII Cup | 125 |
| | Foxwedge (Aus) | William Reid | 125 |
| | St Nicholas Abbey (Ire) | Sheema Classic | 125 |
| 10 | Rain Affair (Aus) | Expressway/Apollo | 124 |
| | More Joyous (Aus) | Sapphire Stakes | 124 |
| | Atlantic Jewel (Aus) | Sapphire Stakes | 124 |
| | To The Glory (Jap) | Shinshun Hai | 124 |
TOP DIRT PERFORMERS


Name (country trained)
Race
Rating
1
Caleb's Posse

(US)

Carter Handicap

125
2
To Honor And Serve (US)
Westchester S
124
3
Bodemeister (US)
Arkansas Derby
123


Game On Dude (US)
San Antonio

123


Smart Falcon (Jap)
Kawasaki Kinen
123
Jackson Bend

(US)

Carter Handicap

123
6
Amazombie (US)

Potrerop Grande Stakes

122


The Factor (US)
San Carlos

122
Union Rags (US)
Fountain Of Youth

122
10

Awesome Maria (US)
Sabin Stakes

121
Mucho Macho Man (US)
Gulfstream Park Hcap

121
Ultimate Eagle (US)
Strub Stakes

121
Nates Mineshaft

(US)

New Orleans Hcap

121
TOP ALL-WEATHER PERFORMERS
| | | | |
| --- | --- | --- | --- |
| | Name (country trained) | Race | Rating |
| 1 | Wise Dan (US) | Ben Ali | 128 |
| 2 | Monterosso (UAE) | Dubai World Cup | 126 |
| 3 | Krypton Factor (BHR) | Golden Shaheen | 123 |
| 4 | Musir (SAF) | Maktoum Challenge R1 | 122 |
| 5 | African Story (UAE) | Godolphin Mile | 121 |
| 6 | Capponi (UAE) | Dubai World Cup | 120 |
| 7 | Planteur (GB) | Dubai World Cup | 119 |
| 8 | Prince Bishop (UAE) | Meydan Hcap | 118 |
| | Dullahan (US) | Blue Grass Stakes | 118 |
| | So You Think (UAE) | Dubai World Cup | 118 |