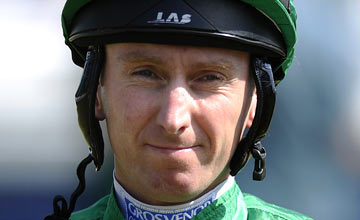 Martin Dwyer: was experiencing new Tapeta surface for first time
PICTURE:
Getty Images
Opinions vary on how quick Tapeta is riding

THERE were mixed opinions on how quick Wolverhampton's Tapeta track was riding following the first race at the course's second meeting on Monday evening.
Last week marked a new chapter in the track's history as the new Tapeta surface was raced on for the first time since a change in surface.
Jockey Martin Dwyer said: "It's riding well - it's a little bit slow but I guess it will tighten up and ride a little bit quicker."
Fellow rider Connor Beasley, also riding on the track's Tapeta for the first time, added: "It's riding like good ground and is a much better surface than the previous one."
Winning jockey Racheal Kneller, who brought home Arlecchino's Leap in a time which was .20 seconds slower than the opening 5f race last week, added: "It's riding quite quick and there's no kickback, which is great."
The first meeting was marred by the fatality of Blizzard Blues but officials were satisfied the artificial surface was not to blame and the evening passed without incident apart from the delay to the last, which was caused by a malfunction to the machinery used to harrow the track between races.
Clerk of the course Fergus Cameron said: "It appears one of the rolls on one of the gallopmasters wasn't turning round at the same speed and caused a build-up of material so we ensured we reinstated the track as it should have been.
"We'll investigate the machine and make sure there isn't anything untoward to make sure we're sorted for Thursday."