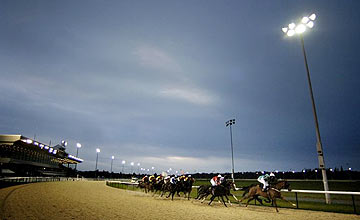 Wolverhampton: snow has fallen at course but no problems anticipated
PICTURE:
Jon Winter
Snow not expected to affect Wolverhampton
SNOW has started falling in several places across Britain, including Wolverhampton, which hosts an all-weather meeting this evening.
Clerk of the course Fergus Cameron said further wintry showers could strike before racing, but added that while conditions would be closely monitored they were not likely to endanger the meeting.
RELATED LINKS
Speaking this afternoon, Cameron said: "We had more than a flurry, two or three minutes of fairly heavy snow that started settling but dispersed within a few minutes as it is a very wet.
"We've had another snow spell moving through but there's so much moisture around that if it continues like this we don't anticipate any problems.
"We're in the highest risk period at the moment and fairly soon that risk will diminish, but there's actually a higher risk of rain than there is of snow.
"We'll keep a weather eye out but at the present time we don't anticipate any problems."
The jumps fixtures at Catterick and Chepstow on Friday are subject to morning inspections due to the threat of snow. Catterick inspects at 8am and Chepstow at 7.30am.