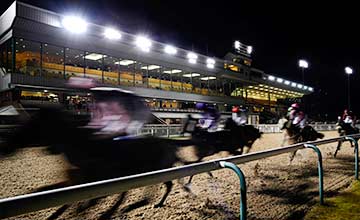 Wolverhampton: management raised concerns
PICTURE:
Getty Images
Layers not shocked by price-fixing worries
CONCERN over the integrity of the starting price at all-weather meetings in Britain did not come as a surprise to some layers on Saturday following the news that book­makers at Wolver­hampton have been sent an extraordinary letter from the racecourse manage­ment warning them about "distorting artificially the betting market or starting price".
Wolverhampton's managing director David Roberts took the unusual step of writing to the track's bookmakers after his team became aware some firms may be laying off-course hedging money at starting price, as opposed to the odds prevailing at the time. The racecourse was concerned this could lead to accusations of price-fixing.
Although he does not bet at Wolverhampton, on-course bookmaker Glyn Jones was not surprised to learn the track's management had contacted the layers.
"You hear of these things, so it's not a complete shock, but we haven't been approached," he said.
"Obviously, some people want the SP shortened, and I can't see there is anything wrong with that, but it's how they go about it.
"I don't believe the money is coming from England. I'd have thought it's coming from Ireland.
"If someone in Ireland has money for a horse and wants it shortening up they should go about it the proper way - take the 4-1 and then the 3-1 and do it the right way."
Read more in Sunday's Racing Post or download the iPad edition from 8pm