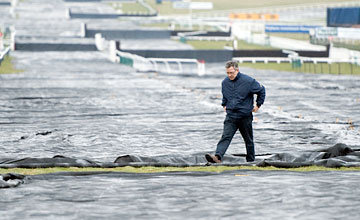 Simon Claisse and his team have deployed frost covers at Cheltenham
PICTURE:
Edward Whitaker (racingpost.com/photos)
Claisse optimistic freeze won't grip Cheltenham
CHELTENHAM clerk of the course Simon Claisse is confident this weekend's Trials day will beat the weather after taking the decision to deploy frost covers a week ahead of the meeting.
Monday's two jumps fixtures at Bangor and Exeter are both subject to inspections with sub-zero temperatures expected overnight, while the prospects for Tuesday's jumping cards are not encouraging.
RELATED LINKS
Officials at Wetherby, which could not have raced on Sunday, will assess conditions at 8.30am Monday morning, while at Leicester clerk Jimmy Stevenson admitted: "It's looking difficult with the forecast we've got."
However, Claisse harbours no such fears, explaining: "We have put the covers down as a precaution against a cold week ahead, with temperatures dropping to as low as -7C and a little bit of rain and sleet about through the week. I think it's going to be 3C or 4C on Saturday.
"The week looks similar to experiences we've had before with the frost covers when we managed to protect the ground underneath and race without a problem, and we'd be very optimistic about protecting the course and racing on Saturday."
At Doncaster, which does not have facilities for a full-course covering and where the two-day Sky Bet Chase meeting starts on Friday, clerk Roderick Duncan said: "We're anticipating some significant frosts up to Thursday night, but temperatures are due to rise on Friday and there's a very positive forecast for Saturday."
Andrew Morris, clerk at Bangor, which inspects at 7.30am, is pessimistic about Monday's prospects, saying: "There is a threat of freezing temperatures overnight and l low daytime temperatures tomorrow so it's not particularly positive."
Exeter clerk Barry Johnson, who has called an 8am inspection, reported: "We're expecting to be -1C or -2C overnight, which we could cope with, but one forecast is for it to get down to -5C. It depends how cold it gets."