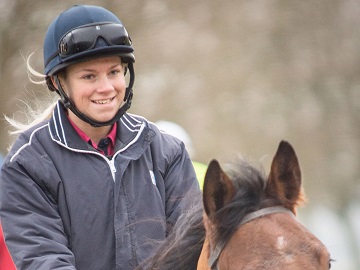 Charlotte Clayton: "Because I was initially rejected by the BHA I feel I've got to do well and try to prove them wrong"
Rejected apprentice has point to prove on debut
A 24-year-old initially rejected for a jockeys' licence because she was told she was too old will achieve what had looked impossible as she has her first ride at Lingfield today.
RELATED LINKS
At the start of the year Charlotte Clayton's dream of becoming a jockey was blocked by the BHA, who were not satisfied she would get enough rides and experience to make a career in the saddle by the time she reached the age of 26, when she could no longer claim.
However, following a campaign led by her boss Rae Guest and the submitting of further information to the BHA's licensing team, Clayton was allowed to complete an apprentices' course at the Northern Racing College and, a few weeks after receiving her licence, she is poised for her first start under rules.
"I didn't even think I was going to get my licence when I started but I've worked hard and when I received confirmation I had passed the course I was screaming that loud everyone in the yard knew straight away," she said.
Clayton, a finalist in last year's Godolphin Stud and Stable Staff Awards, will ride the Guest-trained Opera Buff in the 1m4f apprentice handicap (5.35).
'It doesn't happen overnight'
She added: "Because I was initially rejected by the BHA I feel I've got to do well and try to prove them wrong.
"I'm going to keep it simple and as long as I give him a good ride I'll be pleased. I'm excited and hope I can do well for the boss as he's given me the ride and a lot of support."
Guest has only had the seven-year-old, a winner of one of his 42 races, for a month after buying him at the Ascot sales.
"He's a nice horse who we got primarily for my wife [Rachel Flynn] to ride in the Newmarket Town Plate," said Guest. "He's a sensible, experienced horse who can give Charlotte a good start.
"She's done a lot of training, going to jockey coaching and the gym two to three times a week and has had lots of practice at home.
"She can only ride for me for the first few rides, which is fair enough, and we're taking it a ride at a time, but the horse will probably run again before the Town Plate and after that he'll be solely for Charlotte."
Reflecting on her rocky road to becoming an apprentice Clayton, who comes from a showjumping background, said: "I feel it was wrong I was rejected because of my age as nowadays a lot of people finish school a lot later and unless you are born into the sport you have a lot to learn and it doesn't happen overnight.
"But I'm glad they reconsidered after the support I had from everyone.
"I've had fan mail and cards from people congratulating me and a lot of owners are also delighted I've got my licence."