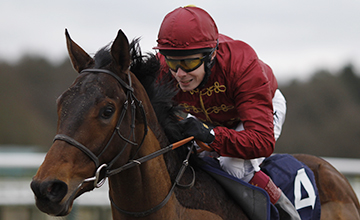 Jamie Spencer takes the win on Master Of Irony at Lingfield
PICTURE:
Getty Images
Spencer marks British return with a victory

JAMIE SPENCER began the rest of his career in perfect fashion at Lingfield on Wednesday, winning on his first mount since announcing his retirement U-turn earlier in the week.
Spencer had been due to take up a management position with Qatar Racing, which for the last two years has employed him as retained rider, at the end of the year. However after riding in Hong Kong last week he revealed a change of heart and will ride as a freelance from 2015.
He revealed he had been "surprised and touched" by the response to his initial decision to retire and later U-turn.
"I try and keep a low profile as much as I can but I've had a lot of nice texts and calls from people who you'd think would have more important things [to do] in their life. I've been surprised and touched by a lot of people's reaction," he said.
Despite steering Master Of Irony, owned by Qatar Racing, to victory on his comeback ride, Spencer said he would not be a regular on the all-weather circuit through the winter.
"l'll go on holiday until February time, take it easy, recharge and be fresh, because for the last ten or 15 years once Hong Kong ends [you only have until] January 1 to get ready for Dubai, so I'm looking forward to it," he said, speaking to ATR.
"I've got no targets [for next season], just to work hard and to achieve plenty, hopefully, and be committed and dedicated on and off the track."