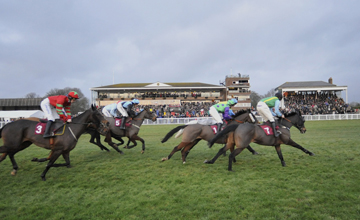 Folkestone: last meeting was in December 2012
PICTURE:
David Ashdown
Housing project spells bad news for Folkestone
THE prospect of racing returning to Folkestone looks bleak after the racecourse site was included in proposals for a massive new housing development.
The course, which has been mothballed since 2012, falls within the area of land on which Shepway District Council proposes to build up to 12,000 homes to create a garden town.
A set of draft principles have been developed that the council says will form part of an expression of interest to the government, which is seeking to increase the number of new homes being built nationally, if approved by Shepway's cabinet next month.
Folkestone held its last race meeting in December 2012 after the council withdrew its support for Arena Racing Company's plans to build 800 homes that would have helped fund improved facilities at the loss-making track and make it more viable.
The stands and the track continue to be maintained by Arc, but the site is in use only for a couple of non-racing events a year.
Discussions at an early stage
Arc's announcement at the beginning of the year that jump racing would return to Hereford, which shut in the same month as Folkestone, raised hopes of a similar reprieve for the Kent track.
Arc said Shepway's plans were at a very early stage and nothing had been determined regarding the future of the course.
"We have been approached by the council and are in discussions with them," said Arc spokeswoman Susannah Gill.
"Several options continue to be discussed with Shepway District Council on behalf of the racecourse owners. These discussions are at an early stage and we will make an announcement if and when there is anything further to say."
'An unmissable opportunity'
The council bought 357 acres of farmland in the area before Christmas, which with the racecourse would form part of Otterpool Garden Town. The new homes, to be built over the next 30 years will include new businesses, schools and parks and would potentially house 29,000 residents.
Shepway council's leader David Monk said: "Otterpool Park gives us an unmissable opportunity. It will deliver the homes and jobs we need, in a great setting that's already well connected.
"It would be difficult to find an area for development with more potential; it already has a motorway and other roads. There's a train station - high-speed trains are bringing new life to this area, just as the trains did for Folkestone all those years ago. Then there's easy access to the rest of Europe via Eurotunnel."