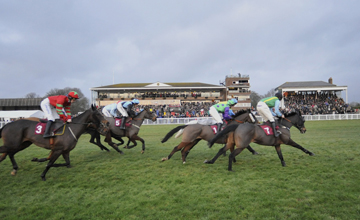 Folkestone: closed on Tuesday after 114 years of racing
PICTURE:
David Ashdown
Sadness as Folkestone stages final meeting

RUNNERS passed the stands for the final time on an emotional afternoon at Folkestone as the course closed on Tuesday after 114 years of racing.

Slim hopes remain that the track will open its doors again, with owners Arena Racing Company (Arc) hopeful a deal can be done to allow redevelopment of the site, which is a prerequisite for the track reopening.

Arc spokeswoman Kate Hills, who reported Tuesday's crowd to be around the 2,500 mark, said: "We've had tremendous support today, a lot of people have come because they thought it might be the final meeting.

"People have been coming for years and it's very sad but there is a lot of hope. We are talking to Kent County Council and Shepway District Council about getting planning permission, which would secure the racecourse's future."

Quartz Du Montceau was a fitting winner in the concluding 3m1f handicap chase, trained locally by Diane Grissell and ridden by Marc Goldstein.

Richard Johnson was on the favourite Landenstown Star for the last, and commenting on the course's closure said: "It's a great loss and it's a shame to see any racecourse go."

Folkestone is the second course in three days to race for the final time following Hereford's final meeting on Sunday, and Sam Thomas (S4MMY1984) tweeted: "Lots of good memories frm both Hereford & Folkestone, sad to see them both grind to a halt, that said I won't miss the drive to the latter!"