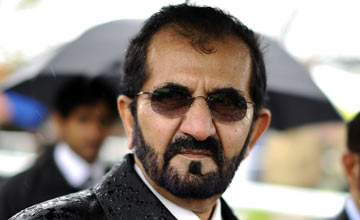 Sheikh Mohammed: has appointed John O'Shea as head trainer
PICTURE:
Getty Images
Godolphin move to strengthen Australia arm
GODOLPHIN have strengthened their global presence further by establishing a permanent base in Australia.
Sheikh Mohammed has appointed John O'Shea as head trainer in the country, while the operation's famous royal blue colours will replace Darley's maroon and white on all O'Shea-trained runners from the start of the new season on August 1.
The sheikh's bloodstock advisor John Ferguson said on Godolphin's website: "Over the last fifteen years, Sheikh Mohammed has led Darley's development and investment in Australia with incredible success and this announcement is a natural next step.
"Godolphin represents the crown jewels of Sheikh Mohammed's horseracing operations and the establishment of a permanent presence in Australia is not only testament to his on-going commitment to the racing industry but also to the country at large.
"We have some fantastic horses in Australia, and with John O'Shea at the helm, we're in good hands."
On his appointment, O'Shea said: "Godolphin is the most prestigious thoroughbred stable in the world and one of the most successful. His Highness is a true horseman himself and I consider it an honour to be given this responsibility.
"I look forward to the start of the season and to contributing to Godolphin's continued global success."
Royal Ascot winner Contributer, formerly in the care of trainer Ed Dunlop, has been purchased by Godolphin and will be trained by O'Shea.
Godolphin already have an established presence in Britain, Ireland, France, USA and Dubai and the move, which the operation say is reflective of the ever-growing relationship between Dubai and Australia, will leave Darley to continue as the breeding arm.
The previous maroon and white colours will only to be used by horses owned by Darley but trained by outside stables such as Gai Waterhouse and Anthony Freedman.
Henry Plumptre, Godolphin's racing manager and managing director of Darley in Australia, said: "This is a significant moment for everyone involved in Australian racing. It confirms the quality and popularity of the racing industry here.
"In Australia, we have collectively won 32 Group 1 races to date, with world-class names such as Sepoy, Helmet, Appearance, Guelph and Earthquake.
"The whole team is delighted that the best horses will now race in the famous royal blue silks, not only here in Australia but around the world."