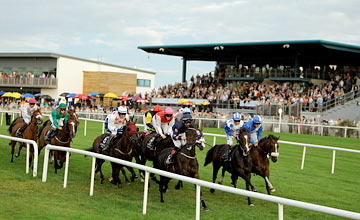 Down Royal: one of two tracks in Northern Ireland facing a funding crisis
PICTURE:
Patrick McCann (racingpost.com/photos)
Funds crisis threatens Northern Irish courses

THE future of racing at Down Royal and Downpatrick, Northern Ireland's only racecourses, hinges on the outcome of a crucial consultation with the government as funding for them reaches crisis point, it was claimed on Tuesday.
The Northern Ireland Executive's Department of Agriculture and Rural Development (Dard) will publish a green paper in the coming months that will determine whether the tracks can survive, according to Mike Todd of Down Royal.
"The outcome of the consultation process will determine whether there will be horseracing in Northern Ireland in five years' time," he warned.
His stark prediction comes in the wake of news that Horse Racing Ireland provided €150,000 in emergency funding to ensure prize-money at both tracks remained above HRI minimum levels.
Racing in Northern Ireland does not receive government funding, nor is there a levy in place. The contribution from bookmakers, on- and off-course, is different to the situation in the Republic of Ireland and Britain.
Each bookmaker in Northern Ireland pays a licence fee to Dard, which goes into the Horse Racing Fund. Down Royal and Downpatrick can use this fund only for prize-money, integrity services and health and safety at the racecourses. This year that money was reduced by almost half, from £2,000 to £1,123, for off-course bookies, which led to a dramatic shortfall in money available to the two courses.
Todd added: "Both tracks are non-profit taking. We're here for the benefit of the sport and are extremely grateful to HRI for stepping in and helping out with this contribution. We're losing money and the situation is dire, in all honesty. All we're asking for is the bookmakers to pay a fair and equitable amount."
Seven years ago Dard began a consultation process on the amount of funding bookmakers should contribute to racing in Northern Ireland. The consultants involved, KPMG, recommended the licence fee for shops should be increased to £3,333.
The tracks and NI Turf Guardians, who represent the bookmakers, agreed a compromise deal of £2,000 per shop. That agreement expired this year and the amount reverted to the original £1,123.
On-course bookmakers will pay a licence fee of £99 to Dard for 2015.
Last year the contribution from Northern Ireland's roughly 320 betting shops, as well as the on-course bookmakers, to the Horse Racing Fund was more than £700,000, but this year it has been cut to around £360,000.
Down Royal and Downpatrick receive money from the SIS media rights deal, as does every track on the island of Ireland. HRI already contributed funding towards prize-money because even when the licence fee was £2,200, the tracks still required assistance to help meet levels.
Jim Nicholson, chairman of Down Royal racecourse and Northern Ireland's representative on the board of HRI, made the request to the organisation for the emergency funding. HRI provided around €150,000, to make up the shortfall in prize-money, which works out at around €1,000 per race.
However, Brian Kavanagh, HRI's chief executive, cautioned that it was only a temporary measure. "The funding from bookmakers was cut back pending a review and we had to step in to keep prize-money at a consistent level. We've always tried to support a 32-county racing industry," Kavanagh said.
He added: "We've had some discussions with the Northern Ireland agriculture department about finding a better basis of funding for the two tracks.
"What they receive from bookmakers is less than ten per cent of the equivalent relevant to funding in the Republic and is significantly lower than in Britain, as there is no levy in the north, although betting shops there are allowed operate FOBTs."
For Northern Ireland's two tracks, the situation is reaching crisis point. The bulk of their financial support comes from the Horse Racing Fund and the huge drop in money available to them is a deep cause for concern.
"We've lobbied the government for 18 months, asking them to do something about the amount of bookmakers' contributions. Now we're hoping common sense will prevail when the green paper is published," Todd explained.
"We rely on the licence fee from bookmakers as we don't get public money from government. None of the boards of the tracks get dividends, we work on a voluntary basis. This is a very serious position we find ourselves in."