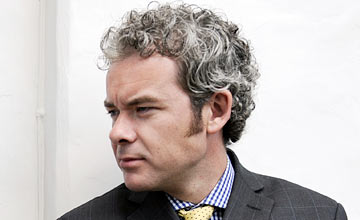 Paul Struthers: "We have had concerns about whether we are getting a fair crack of the whip in front of the disciplinary panel for a while"
PICTURE:
Edward Whitaker (racingpost.com/photos)
Struthers frustrated as BHA rejects Cook appeal
FRUSTRATED Professional Jockeys Association chief executive Paul Struthers claimed Danny Cook's failure to overturn a ten-day ban this week suggests there is no point in riders appealing to the BHA.
And he claimed jockeys no longer know where they stand as they try not to breach the rules regarding riding horses on their merits.
Cook was stood down for his ride on staying-on fifth Zaidiyn at Musselburgh a fortnight ago, being found guilty of failing to take all reasonable and permissible measures to obtain the best possible placing.
His appeal against the penalty was rejected at a hearing on Thursday, and Struthers said: "We have had concerns about whether we are getting a fair crack of the whip in front of the disciplinary panel for a while, and how Danny Cook is in breach is beyond us.
"We had video evidence from his three previous runs to justify the way the horse was ridden and camera footage from Musselburgh showed he was clearly trying."
He continued: "There are two big issues. One, we don't expect to win every appeal, but because of the threshold we set when supporting jockeys we'd expect to win a decent share - as we did last year - but as it currently stands unless there's something that is completely perverse there is no point in us telling jockeys to appeal.
"The other big issue to come specifically out of Danny's case is I don't think jockeys know where they stand in terms of what the BHA require.
"We will be seeking clarity on that because if Danny's ride was in breach when he was clearly trying I don't know how many rides every day would be."
Struthers added: "Danny was understandably annoyed after the hearing and what is he supposed to do if the BHA are saying he needs to ride the horse in a markedly different way? If he were to do that it would be guaranteed to get the horse beaten.
"We have concerns. I would stress they are not remotely in relation to bias, but I don't think the current situation can continue."
Zaidiyn's trainer Brian Ellison fully supported Cook's ride and said: "I don't think he should have been banned.
"The horse doesn't help himself, he's very keen and ran away with a lad at Catterick and ended up pulling up. He will be ridden exactly the same way next time, he will be dropped out."