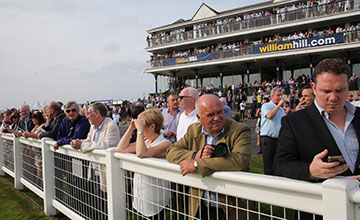 On the fence: racegoers at Ayr on referendum day in Scotland
PICTURE:
John Grossick (racingpost.com/photos)
Racing awaits Scots vote as millions go to polls

SCOTTISH racing was on Thursday night eagerly awaiting the outcome of the independence referendum, expected early on Friday morning, with one racecourse manager saying they have "huge concerns" about a potential Yes vote.
RELATED LINKS
Although the pollsters make it a close call - recent polls have given the No camp a slender four or six-point lead - the bookmakers have a markedly different view.
The odds on a Yes vote continued to drift out on Thursday with 4-1 (from 7-2) the general price on offer, while No hardened into 1-6 (from 1-5) with most firms.
However, in recent days the bookmakers have been keen to stress the disparity between the polls and the betting is down to more money being staked on No with some apparently large-staking London-based punters distorting the market.
Racing took place at Ayr - one of five racecourses in Scotland - on a day when over four million people are expected to cast their vote on whether the country should stay in the UK or become an independent nation, but racegoers were keeping their voting cards close to their chests.
Speaking at the track, Scottish-born trainer Mark Johnston said: "I was scheduled to be at Yarmouth but I thought I can't be in Yarmouth on this day. I was expecting the place to be littered with stickers, flags and banners and there has been absolutely nothing here."
Johnston, a Yes supporter, admitted he was amazed at some of the fears held by the Scottish racing industry, should independence win the day.
"I live in hope of a Yes vote and I can't believe some of the scare-mongering," he said on Racing UK. "When we get up tomorrow morning there's absolutely no possibility of these racecourses packing up and moving somewhere else."
However, Perth general manager Sam Morshead, who fears the racecourse could close in the event of independence, called the day "the biggest in Scottish racing for a century".
He said: "I have huge concerns. I love Perth to bits and we want to look forward to an exciting future, but the future of the course will be put into jeopardy if the vote is for independence.
"There will be a huge shortfall in income if we do not get things sorted and there is not enough information about what will happen. Prize-money is the issue and I don't know what will happen if we cannot compete with the courses down south.
"Maybe I am totally wrong about it all and maybe it will be okay. Maybe they will pull a rabbit out of the hat. Who knows?"