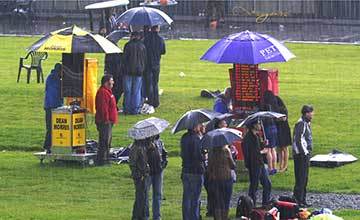 Heavy overnight rain at Musselburgh has left areas of standing water
PICTURE:
Getty Images
Musselburgh card hit hard by non-runners

THIS afternoon's fixture at Musselburgh has passed an inspection at 8.30am which was called following heavy overnight rain., but a significant going change has resulted in lots of non-runners.
RELATED LINKS
No problems were anticipated for the meeting, but 15mm overnight left areas of standing water, with the 2m4f start causing concern.
Clerk of the course Harriet Graham was able to give the green light following the check, and said: "We're raceable and the rain is due to ease and we should be dry from midday onwards.
"We're going to move the chase rail at the 2m4f start slightly so they can take their own line, but we've had a good look and we're fine."
The going has changed to soft, heavy in places (from good, good to soft in places), with 22 intended runners scratched by 11am due to underfoot conditions.
Worst affected is the 3m novices' handicap chase at 3.50, with seven of the ten runners now out.
Non-runners
1.50 (1) Benefit In Kind, (2) Bop Along, (6) Shubaat
2.20 (5) Solway Sam, (7) Another Dimension, (10) Roseville Cottage, (14) Ballyreesode
2.50 (2) Gleann Na Ndochais, (5) Silver Steel
3.20 (2) Overpriced, (7) Pass Muster
3.50 (1) Ifyousayso, (3) Dreamy George, (4) Dream Flyer, (5) Purcell's Bridge, (6) Saints And Sinners, (9) Swingbridge, (10) My Idea
4.20 (4) Douchkirk, (6) Kayfrou, (10) Solway Dornal
4.50 (4) Flawless Filly