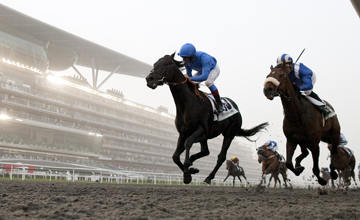 Meydan keeping Tapeta would have been an anomaly
PICTURE:
Edward Whitaker (racingpost.com/photos)
Meydan had little option but to change surfaces
Nicholas Godfrey says the Americans' World Cup snub was the final nail in the coffin for Tapeta
CRITICISM of Meydan for replacing Tapeta with dirt has emanated from a distinctly one-eyed Eurocentric viewpoint. To redress the balance, here is the view of respected US journalist Steve Crist, who did not mince his words about the Dubai World Cup in a Daily Racing Form article written a couple of months before the change was announced.
"Since being run on a Tapeta surface at Meydan in 2010, it has become a nearly meaningless race beyond the money, with no championship implications and diminished American participation," Crist wrote. "Changing the World Cup from dirt to Tapeta was clearly a premature move, probably based on the false impression that racing in the US and perhaps elsewhere was headed for a synthetic future. Now, with synthetic Grade 1 racing on the verge of disappearing from the sport here, and little movement abroad toward racing top-class horses over anything but grass or dirt, running the world's richest race on a synthetic surface makes it something of a white elephant, little more than a rich novelty."
Crist is a hardcore proponent of dirt racing and his view was an extreme one, but that should not automatically invalidate his argument. Running the Dubai World Cup on a synthetic surface - even a good one like Tapeta - when virtually nowhere else uses a similar one has taken away much of its relevance on the global racing stage.
It is like playing football all year round in the traditional fashion and then deciding the Champions League via a penalty shoot-out competition, or making the World Cup a five-a-side tournament.
Let's be clear on one thing: this is not a knock on Tapeta itself. Like all racetrack surfaces - turf, dirt or synthetic - Michael Dickinson's patented track requires proper upkeep and maintenance. Perhaps Dubai failed a little in that respect.
Get this right, though, and Tapeta will prove a successful choice for Wolverhampton and Newcastle. But a synthetic surface is no longer the optimum choice for Meydan, which is why it is ripping it out.
Things have changed, utterly, in the five years since Tapeta was installed at the world's grandest racecourse. That decision was heavily influenced by the belief a wholesale move towards synthetic tracks was imminent in North America, which had provided the headline acts at a multitude of World Cups run on dirt at Nad Al Sheba with horses like Cigar (1996), Silver Charm (1998), Invasor (2007) and Curlin (2008).
Yet the Americans did not even bother to turn up for the most recent World Cup meeting, which probably signalled the final nail in the coffin for Tapeta - although given Hamdan Al Maktoum's trenchant criticism before the race, presumably the die was already cast.
Either way, the victory of an unheralded Godolphin performer in African Story - a synthetic freak who has not won on turf since November 2010 - hardly helped matters. He may well become the fifth (of five) when it comes to Tapeta World Cup winners who fail to win another race.
By installing Tapeta, the racecourse of the future must have believed it had the surface of the future. But any such future has not come to pass and the US has backtracked - next year there won't be a single Grade 1 held on a synthetic surface after Keeneland and Del Mar follow Santa Anita in going back to dirt.
But why, you might ask - and plenty have - should anybody worry about once-a-year American visitors?
Leaving aside the argument that this is a fairly pointless discussion - Dubai wants the Americans, end of story - surely it is unfortunate that an event calling itself the World Cup should take place without the involvement of what remains, despite some fairly obvious troubles, one of the world's foremost racing nations?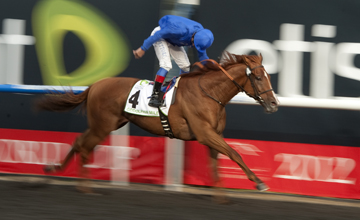 Dubai World Cup winner African Story is a synthetic freak
PICTURE:
Edward Whitaker (racingpost.com/photos)
MANY of those who argue in favour of Tapeta seem to start from a position of antipathy towards dirt racing, the sort of cliched viewpoint that disdains it as 'dog racing'. Everybody now knows artificial surfaces are much closer to turf than dirt, and Meydan already caters for the best turf horses.
Dirt racing may be in decline but a Tapeta World Cup - or a World Cup on any currently available synthetic surface - cannot be anything more than an ersatz turf race, nowhere near as good as the proper turf races on the same programme. There may even be a case for making the World Cup a $10 million turf race, while the dirt contest becomes the main support act.
Central to the whole discussion is the precise nature of the dirt surface to be installed at Meydan. Assuming it is akin to that formerly in operation at Nad Al Sheba, then it will actually be sand, which could conceivably offer the sort of surface that is slightly fairer to all-comers than a traditional fast dirt strip.
All dirt tracks are different - the contrast between lightning-fast Santa Anita and heavy, deep Belmont Park offers one reason to be sceptical about California Chrome's Triple Crown bid - and perhaps Meydan will still be leading the way with the safest so-called 'dirt' track in the world.
Equine welfare arguments should not be overlooked, but they also should not be taken in isolation. If it seems beyond reasonable doubt that running on a more forgiving synthetic surface is kinder to horses than pounding away on rock-hard dirt, a more pertinent issue for American racing is that the combination of a permissive drugs regime and hard dirt tracks can make for a lethal cocktail. Don't blame dirt tracks on their own.
As is so often the case, there is really no clear-cut right or wrong where Meydan's decision is concerned. An iconic racecourse meant to showcase the sport was left with a choice - carry on with the only synthetic surface in the major racing world or change the surface to reflect the rest of the world.
It has chosen change, and here's hoping it ends with a world-leading dirt track - presumably sand-based and more forgiving - plus a strict medication regime that might provide a potentially useful example for any future American visitors.
But even if it doesn't, and the World Cup reverts to its former years as a private battle between the Makto ums and the Americans, then at least the world's richest race will no longer be left sticking out like a sore thumb with negligible relevance to the rest of the racing world, where they race on either dirt or turf.
They may not always do so, but any race avoiding those two surfaces in the current climate is immediately rendered nothing more than an excrescence. And that's not what Meydan, and the Dubai World Cup in particular, was designed for.