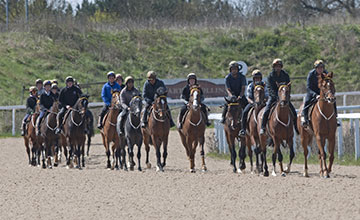 Horses working at the track formerly known as Great Leighs
PICTURE:
Chris Bourchier
Done keen on turf
track at Chelmsford City

BETFRED boss Fred Done, the driving force behind Chelmsford City, is keen on the course hosting turf racing as he relishes the return of the track formerly known as Great Leighs.
Chelmsford City, which closed in its previous guise in 2009, has been granted 12 start-up fixtures by the BHA for its Polytrack surface in 2015, but Done confirmed the potential is there to race on turf with plans in place for an oval mile inside the all-weather circuit.
"I think you can have both," he said on Saturday morning. "We've got the facilities, not initially, but we can put turf there and I would be very proud of that racecourse."
It emerged last year Done, along with SIS and Bet Solutions International, was planning to resurrect racing at the course and the Betfred owner cannot wait for it to start.
"It's one of those things that happen in life that you don't expect - it came out of left field," he said of getting involved.
"I was down there this week and I've got to say it's the most exciting prospect. It's going to be a fantastic racecourse and I believe it's going to be the best all-weather racecourse in Europe.
"It's got everything going for it. It's got the population of London, it's close to Newmarket and ticks every box."
Done, speaking to The Morning Line, added: "We're six or seven weeks in front building the grandstand and hopefully that will finish in November and we can start racing in January."