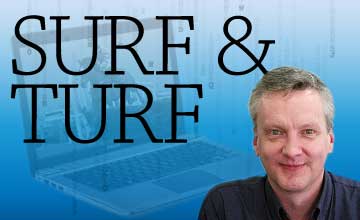 Nothing appetising about the hyped-up app Peach
READERS who are older than younger readers might remember the charts. They're still going. You just don't need to shift as many units as Michael Jackson did to make the top, and they're a bit parochial now.
Furlongs remain but most measures are global, not imperial, and 17 million views on YouTube gives a better picture of popularity than rising from ten to five in the UK Top 40.
Still, touchingly, the internet perseveres. Big news this week was the latest hyped-up social media app, Peach, busting into the social networking top ten in the App Store charts, ahead of Tumblr and Periscope. OMG!!
The sudden appearance could just mean it's been particularly well hyped up. It could also mean there's a strong appetite for new things. But Peach looks like a shambolic mixture of old things.
The app is the work of Vine co-founder Dom Hoffman, which should give it bedrock credibility. On the other hand, his launch last year, Byte (some sort of thing for creating something or other), didn't set the internet alight.
And on the third, most important hand, is any of this actually good?
Is it good that Dom Hoffman and his like skip around tech town with their somewhat trendy, social-media-type names, drumming up goodwill for tediously tangled products that have about as much clarity as a hologram of a typewriter that sends telex messages by fax and are as welcome on your home screen as a bird turd on your windscreen? Is it? Or are they and their apps just a set of accelerators for the slow death of humanity?
I'm not sure yet. So, like with Ello (Ello? Is anybody there?), Natter and Blab, I signed up. Have a look, see how racing fans could gain. But this could be the last time. I mean, what's wrong with Twitter and Facebook? Not much. And if you don't like them, there are Instagram, Snapchat and WhatsApp, plus LinkedIn for squares and Periscope for whatever.
With Peach, designed in sickly pastel shades like a vile range of 1970s bathroom suites, you can send stuff to friends and see stuff they've sent you. Sound dull and familiar? The USP is 'magic words'.
For example, type 'g' and it will let you search for a gif. Everyone seems excited about that. Type 'sa' and it will open Safari for you – except it didn't, because as soon as I typed 's' it started looking for a song.
It's pants. And you can't send much or see much anyway because none of your real friends are on there. There are some 'brands' like Vice (but that's everywhere – have a look under your kitchen sink) and people impersonating slebs.
I searched for racing contacts, tracks and what have you, in the US only, because Peach, apart from being iOS-only, seems pretty much US-only. It wouldn't accept my +44 number (although it said it would). But no one was there.
And according to an article I'm reading right now – thanks to social media thinker and ex-Racing Post toiler Andrew Riley (@AndrewRileyy) – Peach is already almost dead, like Meerkat, after only a few days of wheezing half-life. Time flies when you're expiring?
Back in the real world of artificial surfaces, racing has been thin on the turf due to an influx of climate. Not to worry, the all-weather tracks (and other countries; see RaceBets review below) keep things going until Cheltenham starts.
The newest, Chelmsford City, just celebrated its first birthday since its revival from the corpse of Great Leighs. I know because it says on the home page at chelmsfordcityracecourse.com.
It says quite a lot on the home page, a riotous carousel inciting users to "celebrate our first Christmas with us" (bit late, that, sorry, just went to my mum's), buy Chelmsford gift vouchers, party on St Patrick's Day and watch Simply Red in July (probably just go to my mum's).
It's a busy site, improved since launch. It gives the feel of a 'proper' racetrack, yet all-weather remains a hard sell, lacking verdant lawns. Brit crowds seem turned off by sandy hues, but the profile picture at the top of Chelmsford's Facebook page makes it look great.
The track's got a decent social media profile, with close on 5,000 Facebook likes and nearly 4,000 followers on Twitter. Not bad for a year and not far behind Lingfield (7,669 Facebook/13.9k Twitter) and Wolverhampton (6,103/13k). Mind you, looking at it negatively, if Chelmsford's figures plateau also at about 6,000/13,000, that's roughly the number of all-weather fans in the world.
The north will be getting the Tapeta treatment in May when the gates open at Newcastle. You might think the site at newcastle-racecourse.co.uk would have exciting artist's impressions and cracking photographic evidence of the exciting work, but there's only a two-line update. Come on! You could put something on the YouTube channel (inactive for two years).
Incidentally, but unendearingly, Newcastle's Facebook page carries the line "sports venue & stadium – race track". Come on again!!
---
Review: RaceBets (racebets.com)
For The internet (no app, but there's a decent mobile version).

First impressions Interesting. A bookmaker with just racing. No casino, handball, bingo or groceries.

What they say "The only online bookmaker dedicated to horseracing. Bet on races from 40 countries."

What punters say Nothing much, but they've got 13,000 followers on Twitter.

What's good A website's website. Simple layout. No need to hunt for racing. Appropriate exotics. Action from all over to help you through the winter. I watched a stream of Neuss (Germany) without even having a bet. Is that good?

What's bad Betting interface slightly unusual and unsmooth, although it works. Better on mobile version. Some might think the whole thing 'basic'. The 'blog', where you'd expect insight, is really for SEO purposes. Editorial extras are thin and pointless.

Verdict
Does what it says (no tin). Three and a half out of five.