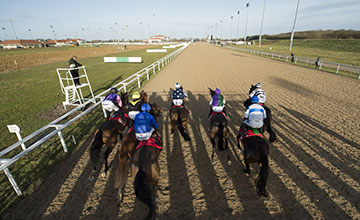 Chelmsford: officials want to add a turf course to the all-weather track
PICTURE:
Edward Whitaker (racingpost.com/photos)
No all-weather racing next year at Catterick
CATTERICK'S plans for a floodlit all-weather track will not become reality before 2017 at the earliest after the course dropped out of next year's fixture allocation process for the scheme, with officials resigned to the fact they had run out of time to be ready to stage meetings next year.
However, Newcastle's application for its all-weather course has been made, while Chelmsford City has also applied for a planned turf course to add to its existing all-weather circuit.
Catterick had signalled its intention to enter the process in January but the deadline for a detailed application passed without them.
Delays in putting in the application for planning permission have meant the course will now have to wait until the 2017 fixture process, although should Newcastle be successful in its bid to become the north's first all-weather track the case for Catterick would appear to be diminished.
The news will disappoint a number of trainers who favour Catterick's proposal over Newcastle.
Newcastle's application is expected to contain details of its case regarding rule (F)26.1, which states Flat cards must include two races over a mile or further that total two and a half miles and which halted plans for the course last year. Only the straight mile at Newcastle is set to be floodlit.
BHA media manager Robin Mounsey said: "The BHA has received an application from Newcastle racecourse to enter the 2016 fixture allocation process with an all-weather track - including a floodlit straight mile - in place of its existing Flat turf track, and from Chelmsford City racecourse to enter the process with an additional Flat turf track alongside its existing all-weather track.
"Both applications will now be considered in accordance with the usual procedures for entering the fixture allocation process with the addition of, or conversion to, a track at an existing racecourse."
Chelmsford City has ambitions to have Britain's first floodlit turf course in addition to t he all-weather track, but racecourse manager Fraser Garrity said management at the Essex venue would not rush to stage racing on both surfaces by next year.
Garrity said: "It's always been part of the board's vision to have a turf track and so, to keep all options open, that application was submitted.
"We will now liaise very closely with the BHA and their inspectorate and we will work with them on any questions they have.
"It may well be 2016 is a year too soon but we wanted to keep our options open and in the weeks and months ahead we will be doing more work on it to see what is feasible.
"What I can guarantee is that we won't rush it."