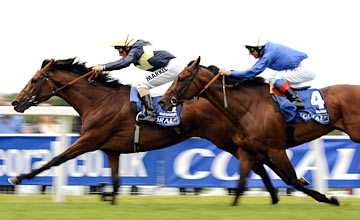 Nathaniel (left): looks part of an exceptional crop of individuals
PICTURE:
Getty Images
Eclipse shows Frankel's is the classic generation

THE battle of the generations kicked off in the Coral-Eclipse on Saturday and it might have been a sign of things to come, with the sole three-year-old representative beaten almost 20 lengths.
Dante winner Bonfire failed to land a blow on his first foray into all-age championship racing, finishing a well-beaten sixth behind Nathaniel, although he was reported to have returned slighly lame from the race.
Bonfire was far too free early and he paid for it late, but even if he had settled better and finished closer, this was not the result connections of the leading three-year-olds, headed by Camelot, would have hoped for.
If you add this first inter-generational form indicator to the complete lack of hierarchy amongst the three-year-olds (behind Camelot) you could come to the conclusion the foals of 2009 are a substandard group, but there is another way of looking at it.
If Bonfire's loss was a negative for the Classic generation, then Nathaniel's success was surely yet another boost for the four-year-olds.
It might be the case that Camelot is lording it over a weak crop who can't hope to gain any success against their elders, but it might also be that Frankel is head, withers, hooves and tail above an exceptional crop of four-year-olds. Indeed, it may be that both statements carry some truth.
Against their own generations Frankel and Camelot are clearly superior, but by the end of the year one of those achievements may prove to be a lot more noteworthy than the other.
Statistically speaking, of course, there is unlikely to be a huge variation between the best individuals in these two groups of horses who were reared just one year apart on the same grass and born unto the same gene pool. But it is looking possible.
We seem to get something strange happening every year in racing and perhaps the juxtaposed-generations will provide the curiosity for 2012.
There is plenty of water to flow around the racecourses of Europe between now and Champions Day at Ascot and the three-year-olds may yet prove up to scratch.
It is likely that at least one will join Camelot in showing the ability to rate higher than 125. It is also likely that the huge margin between Nathaniel and Bonfire is not an accurate guide to the difference between the two groups.
But while the three-year-olds still have it all to prove, Frankel's group of four-year-olds have already proved themselves beyond doubt. They enjoyed a lot more success than an average crop last year and they are still going well in the all-age sphere this time round.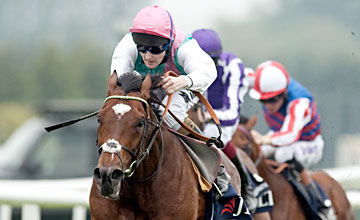 Frankel is the undisputed king of a supreme crop of racehorses
PICTURE:
Edward Whitaker/(racingpost.com/photos)
Last year Frankel's crop won the Sussex and QEII (Frankel), July Cup, Sprint Cup and Prix de la Foret (Dream Ahead), Arc (Danedream), King George (Nathaniel), Prix du Moulin (Excelebration), Prix Jacques le Marois (Immortal Verse) and Prix Maurice de Gheest (Moonlight Cloud).
This year the four-year-olds ran 1-2-3 in the Lockinge, 1-2 in the Queen Anne, won the Gold Cup, 1-2 in the Eclipse and Moonlight Cloud almost caught Black Caviar in the Diamond Jubilee.
They've beaten their seniors and now they have started to beat their juniors. And, having finished a long way in front of Dream Ahead, Excelebration and Immortal Verse on the racetrack, Frankel himself sits clear at the top of the pile. Now that's hierarchy.
If Frankel's wide-margin victories alone were not enough for you to concede that he is the perfect example of a thoroughbred, then just look at what he has beaten.
He is the undisputed king of a supreme crop. The horses he beats are champions themselves and that supporting form proves his superiority beyond doubt.
Sometimes just one other outstanding horse is enough to create a strong hierarchy - like Black Caviar and her Hay List - but at present Camelot has none.
If the Ballydoyle colt can prove himself against his elders it won't matter how good his contemporaries are. If he can bag the Triple Crown maybe no one will care, focusing rather on his versatility.
If he didn't run against his elders that unanswered question would hang indefinitely over him.
As well as Bonfire, there was an interesting angle on another defeated horse in the Eclipse on Saturday. Monterosso's eight-place finish means that all four Dubai World Cup night Tapeta winners have been turned over on their return to turf.
It was mentioned in World Class (April 2) after the Dubai World Cup that the Tapeta form should not be considered transferable with turf form and that has proved the case.
Monterosso, Krytpon Factor and African Story all ran out convincing winners on the all-weather track in March, having all proved themselves on it before, but none of them have run to the same level back on turf. UAE Derby winner Daddy Long Legs was the fourth Tapeta winner, but he seems able to handle both surfaces.
Krypton Factor was beaten at Kranji and in the Diamond Jubilee, African Story finished sixth at Sha Tin and now Monterosso has reverted to grass-type, finishing 33-lengths behind Nathaniel in the Eclipse.
The peak Tapeta ratings of Monterosso, Krytpon Factor and African Story should clearly be ignored until they return to the Dubai Carnival next year.
The Tapeta surface really is out on its own on the z-axis and trainers will have to begin to prepare their horses differently if they want to succeed at the carnival (see World Class April 2 for more).
Nathaniel posted the performance of the week for his half-length success over the staying-on Farhh.
He was expected to improve for the run and could also find more for the step back up to 1m4f. He looks the one to beat in the key middle-distance races this term.
The Arc could be interesting. Camelot versus Nathaniel might be the best 'versus' we can hope for this year.
TOP OF THE CLASS: Nathaniel 129
John Gosden (GB) (Eclipse, Sandown, 1m2f7y, 7 July)
TOP LIST
TOP TURF PERFORMERS
TOP DIRT PERFORMERS
TOP ALL-WEATHER PERFORMERS