Racing Post iPhone & iPod Touch App

William Hill Account settings
To get startedall you need to do is click on the Account tab, which is the last of five tabs at the bottom. This takes you to the William Hill Account page where you have two options – Login / Manage your existing William Hill account or Open an account via the Register button. Once you have followed these simple steps you are ready to join our betting revolution.
To be eligible for the £25 free bet simply enter the code 'RPA25'
TERMS
You must be 18+ and the offer is for new Wiliam Hill online, phone or mobile customers only. free bet is added to your account on settlement of first qualifying bet. Free bet stake not included in any winning returns. Minimum qualifying bet of £5 applies. Offer ends December 31, 2011. WWW.GAMBLEAWARE.CO.UK
Placing a Bet

You can bet through our app using your William Hill acoount by tapping the prices within the racecards. Once you have clicked on the price a bet slip will appear so simply enter your stake, check your bet is correct and hit place bet. It's as easy as that.
News
Our app displays the current top 25 news stories from racingpost.com and the latest video features from RPTV.
The list refreshes every time you arrive at the page or by tapping the refresh icon on the top right.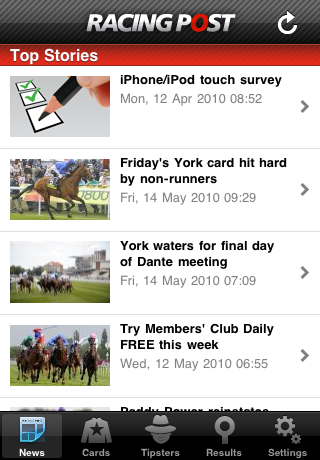 Cards
From the cards homepage, tap the date button (top left) to access cards for up to one week ahead, plus any big-race entries that we offer race cards for on racingpost.com.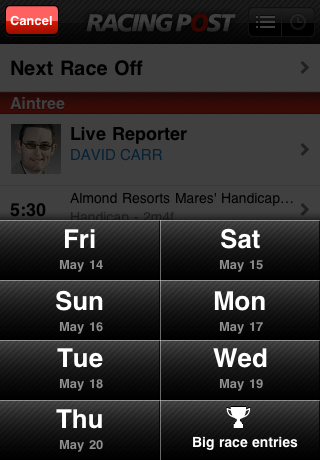 When viewing a single race card, navigate between races at the current meeting by either tapping the previous (<) and next (>) arrows or by flicking the time to the left or right.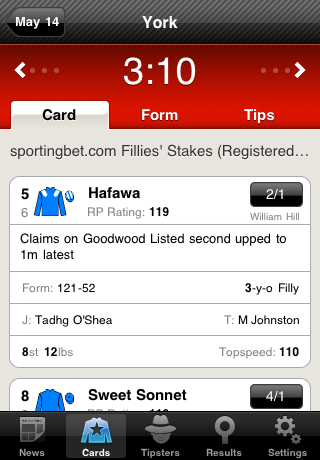 With the Form tab, you can view details of up to eight recent outings for each runner - you can change how many form lines to download with each card in the Settings section.
The Tips tab view includes a list of only the runners tipped in the racingpost.com Selection Box. To find out who tipped who, just scroll down to the table below.
In all cards views - including landscape - tap a runner to view its Horse page where you can find pedigree information, race records and lifetime form.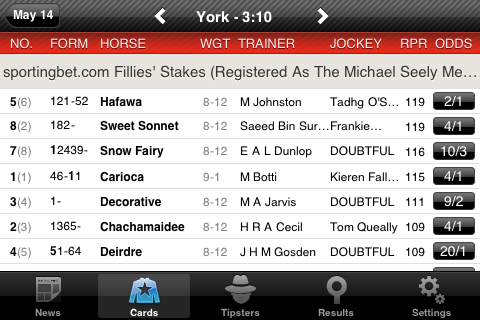 Be sure to make use of our excellent Live Reporter service - accessible from the Cards homepage. Reports here are updated throughout the day as our correspondents bring you paddock picks, quotes from connections and other updates live from every meeting in Britain, every day.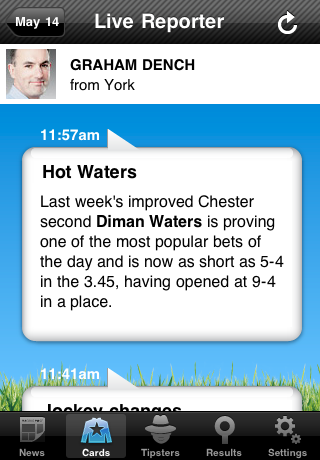 Tipsters
The Tipsters homepage refreshes upon arrival : only tips for races not yet run are displayed.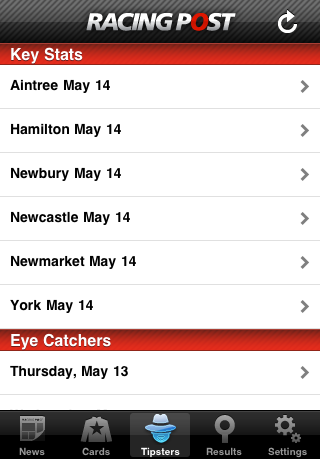 Results
The Results homepage shows you winners and placed runners for every race on your chosen date.
If a race has no > icon on the right-hand side this means it is a fast result showing winner and places only – the full result will be available soon after.
Single race result pages give you comments for each runner in UK races. The beaten length is displayed underneath the finishing position.
Further result information can be found by rotating to the landscape view.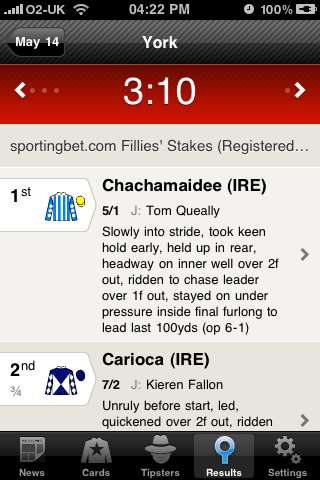 Settings
Currently, the settings section allows you to customise your racecard views find help on how to use the app and share it with your contacts. Look out for more features here in later versions!
You can choose what information you want to show in your portrait race card, where each piece of information sits in relation to each runner and also what order you wish to list the runners in - for instance, ordering by Racing Post Rating would generally show the best horses first.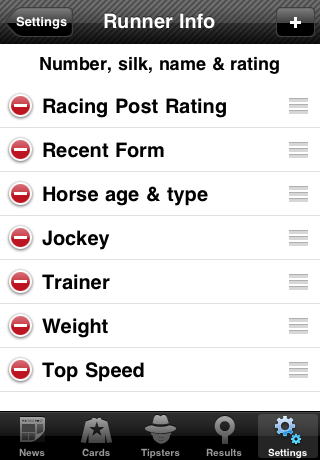 Feedback
For further help with any problems relating to the Racing Post iPhone & iPod Touch App please email help@racingpost.com
Download
You can either search for racing post in the app store, or you could click on the following link which will open up the Racing Post app download page in iTunes