| | |
| --- | --- |
| | THE BHA HANDICAPPERS |
Weblog: View from the team behind the official ratings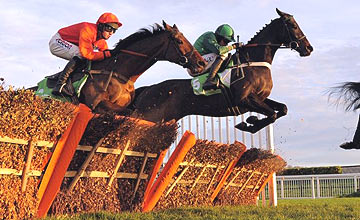 Brampour (left) lost out to Grandouet but came out on top in the ratings
PICTURE:
Martin Lynch
Figures favour Brampour over winner Grandouet

A QUESTION for our readers. Mathematically, which was the best horse on the day in last Saturday's Stanjames.com International Hurdle? asks Dave Dickinson.
Tricky you may think, after all Overturn was conceding 4lb to the winner Grandouet and was beaten by four lengths. Typical handicapper trick question though because the answer is arguably neither of them.

Brampour's jockey, the excellent Harry Derham, was not allowed to claim his usual 7lb under the conditions of the race and therefore technically comesout of the race with a figure 2lb above both winner and second. Using Sanctuaire as a benchmark, both Grandouet and Overturn ran to 166 (I have dropped the Fighting Fifth, despite not yet being convinced of Overturn's love of Cheltenham) and I have put Brampour on 168.

Would he have won the race had he been ridden by Ruby Walsh? Personally I doubt it but he'll hold sound claims on paper if taking up his entry in the big handicap (The Ladbroke) this weekend with Derham once again able to claim his 7lb - he'll technically be 9lb well in. Conditions race form in handicaps I hear you all saying!

Extending the logic from Brampour, his exploits and those of Grandouet have led to the belief that last season's Triumph Hurdle was a high quality affair. Well there were clearly some high-class horses involved in the race but the eleventh home was only beaten twelve and a half lengths by the winner that day, so I would argue that the form remains less than solid.
Said eleventh, Aikideau, also ran at Cheltenham over the weekend - he was beaten over fifteen lengths by the unbeaten Darlan, who was conceding him 6lb. I rest my case.
GRINDING IT OUT
The Spinal Research The Atlantic 4 Gold Cup run at Cheltenham on Saturday has had more names than I have had hot dinners, writes Mark Olley.
Last year it was the Vote AP Gold Cup and for those of us who are a certain age it is better known as the Massey Ferguson - hopefully you now know which race I am writing about.

The race itself was notable for several crushing mistakes by horses racing in prominent positions, notably the well-fancied David Pipe duo Great Endeavour and Salut Flo. This left Roudoudou Ville to make the best of his way home and when he went clear approaching two out he looked the likely winner. However, his surge to go clear left him with little to repel the challenges of Medermit and Quantitativeeasing and this trio pulled well clear of the ultra-consistent I'msingingtheblues.

I have moved Roudoudou Ville up 5lb to a new mark of 150 and there will clearly be other days for this fast improving six-year-old. Incidentally, I remember this horse being given a highly optimistic entry in a 0-90 selling handicap hurdle by his then trainers, Robert and Sally Alner, a couple of years ago when newly acquired from France.

Medermit moves to a new mark of 163(+6lb), and with a third to Master Minded in the Grade 2 Amlin Chase at Ascot already on his cv he clearly has a future in graded company.

Those changes to the placed horses mean the winner Quantitativeeasing moves to a career highfigure of 153 (+8lb). He is still relatively lightly raced - this was only his seventh chase start - and his style of racing here suggests a step up to 3m looks well within his capabilities.

As handicappers, we often attract criticism for treating the placed horses in these valuable handicaps harshly, so from that point it was very pleasing to see the runner-up from the Paddy Power Gold Cup go on to land this race. When you add to that the fact that the Paddy Power Gold Cup winner,Great Endeavour, was second in this race last year it becomes harder to defend that argument.

The Glenfarclas Cross Country Handicap Chase was also a race that I had to assess this week, or rather a race that I didn't have to assess. Normally once a horse or horses get beyond the second fence from home, and then fail to finish, we try to allocate them a performance figure based around where we think they would have finished. However, in this instance, with the first seven horses starting to bunch, and there being only around six lengths between them, I took the view that it was impossible to assess this accurately.

As the first three home were in eighth, ninth and tenth when the first seven took the wrong course I have decided to leave the handicap marks of all runners unchanged.
PULLING IT ALL TOGETHER
I am just back from the conference with my European colleagues where we have agreed the International Classifications for the two-year-olds, writes Matthew Tester.

Sometimes the arguments can be exhausting. One year, after an hour of discussions about the top two colts, we had still not agreed a single rating. This year was easier because we were all singing from the same hymn sheet. You will find out all about it when we hold a press conference on January 10th to reveal the World Thoroughbred Rankings.

Theone sad note was the absence of the Italian Handicapper Marco Rinaldi. Italy was first included in the Classifications in 1985 and Marco has been their representative at every single conference since. A recent health scare, now happily behind him, kept him away.

It is important to stress that the figures that we reveal are not just our own work. For the European two-year-olds the panel includes Ireland, France, Germany and (usually) Italy. For the World Rankings this year 14 countries sent representatives. It is a tiring week for the British; but all the discussions are in English so spare a thought for the hard working delegates from countries where English is not widely spoken.
This blog appears courtesy of britishhorseracing.com