| | |
| --- | --- |
| | THE BHA HANDICAPPERS |
Weblog: View from the team behind the official ratings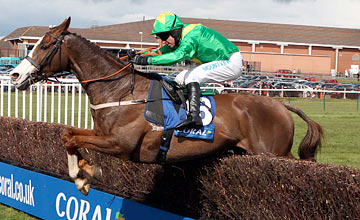 Merigo made the Scottish Grand National frame for the third year in a row
PICTURE:
John Grossick (racingpost.com/photos)
A tale of two terrific Grand Nationals

Head of handicapping Phil Smith blogs about the Ayr and Aintree Grand Nationals...
LAST Saturday Merigo showed his aptitude for Ayr racecourse by recording his fifth course victory and his third consecutive placing in Scotland's biggest race, theCoral Scottish Grand National. Merigo ended last season on a rating of 141 based on his second in last year's contest, beaten three-quarters of a length by Beshabar when running off 142 from 12lb out of the handicap.
He was beaten over 60 lengths on his reappearance at Haydock and then over 70 lengths at Kelso. I dropped him a pound for his first poor run and 2lb for his second poor run, whereupon he ran even worse at Wetherby off 138 and was beaten over 80 lengths. I now dropped him by 5lb to 133 and at Doncaster in January he finished 12th in the Skybet Chase still beaten around 40 lengths. This was his best run so far this season but he was still not getting competitive.
I now dropped him to 129. Even though this was 13lb lower than the mark he had run off at Ayr in April it was only a pound lower than his rating of 130 from that day (ran 12lb out of the handicap) and his previous highest winning mark was 127.
Connectionsfound a weak handicap back at his beloved Ayr and he won narrowly as the 11-1 outsider of six. The subsequent poor form of his opponents that day made his new mark of 134 look perhaps a little high, but faced with April sunshine and 4m at Ayr, Merigo battled tenaciously up the straight to just outlast Auroras Encore by a head.
"You put them up quick enough but you never drop them that quick," is a phrase often quoted at us by disgruntled connections. The handicapping of Merigo seems to put that nonsense to bed quite quickly. What was particularly pleasing was that both Merigo and Auroras Encore had won their last race showing that you can win or run well in a big handicap having run well the time before. Merigo is now back to 142, the mark connections ran him off in last year's renewal.
Head of handicapping Phil Smith
PICTURE:
John Grossick
There are some races and tracks where I never seem to get a good finish but the Scottish Grand National has been a lucky race for my professional pride. A head this year, three-quarters of a length and a neck last year, half a length in 2009, 2007 and 2006. In 2005 the winning distance was a short head and in 2003 a neck. In 2002 the first four finishers were separated by just over two lengths.

At Aintree in the John Smith's Grand National, the first four, Neptune Collonges, Sunnyhillboy, Seabass and Cappa Bleu had also all run really well in their prep race for the big one. A year ago I had been accused by a journalist of encouraginghorses not to run to protect their marks for the Grand National. The first four this year had run a total of 16 times between them before the big day.

Just like Merigo, Neptune had come down in the ratings since the end of lastseason. He had pulled up in the Hennessy in November off 168 carrying top weight, trying to do a Denman and I dropped him to 161. His form had tailed off a little in 2010-11 and 161 was a rating he had won off in a handicap back in 2008.

He ran a good race in the Silver Cup at Ascot to finish fourth in December again carrying top weight to be beaten just over 8 lengths and I dropped him to 159 off which he ran another good race to be second to Hold On Julio at Sandown but beaten 9 lengths and again carrying top weight. Neptune Collonges' performance figure in both of these races was 157 and when I compressed the top weights for the John Smith's Grand National it fitted neatly to have him on 157.

He then ran in the Grand National Trial at Haydock in February. Those attending that day will have seen four Cheltenham Festival winners and the John Smith's Grand National winner so put the date in your diary for next year.
Surprise, surprise he was carrying top weight again off a mark of 159 and just failed to reel in Giles Cross giving the strong impression that at the age of 11 he now needed a bit further than 3 miles if he was to win. At Aintree he was technically 5lb well in as his new mark after Haydock was 162.

Neptune Collonges was on 11st 6lb at Aintree, the highest weight a winner has carried since Red Rum's third victory in 1977. It seemed sensible after the race to put the now retired Neptune Collonges back to 168 from the 157 he ran off, especially as Sunnyhillboy ran off 142 in the race but was due to go to 152 after his Cheltenham Festival victory.
I took the view that Sunnyhillboy had replicated his Cheltenham run in the Grand National so as he was due to go up 10lbs. Neptune Collonges' final rating will be 157+11=168. This is the highest rating a Grand National runner has achieved since Suny Bay was second to Earth Summit off 170 back in 1998.

So we have had two 11-year-old Grand National winners on successive Saturdays, both of whom had been dropped to keep them competitive as they grew older and both of whom had run well in their prep race for the big day. It is good for racing that old favourites like Merigo and Neptune Collonges, who had nine previous runs between them this season, can still win major races and in my view it is a ringing endorsement of the current handicapping system, especially as both races produced cracking finishes, a head and a nose.