| | |
| --- | --- |
| | JERRY MCGRATH |
Weblog: A young jockey making a name for himself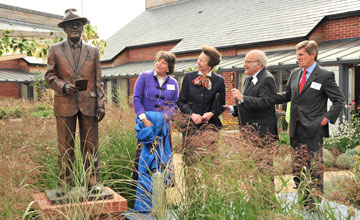 Jockey Jerry McGrath has been a regular at Oaksey House since his fall
PICTURE:
Darren Jack
The perfect present would be a Boxing Day winner
Well things are getting better slowly but surely and I'm out of the neck brace. As long as things keep improving at the rate they are confident I'll be back riding on Boxing Day.
I spoke to my agent Dave Roberts on Tuesday and I don't know what or where I'll be riding at the moment, but with eight jumps meetings I'm hoping I can pick up a few nice rides.
The boss has a fair few entered and now it's just fingers crossed he doesn't find me anything with too light a weight, as that's every jockey's Christmas Day nightmare.
It's a good job I'm not scared of needles
Oaksey House is just a ten minute walk away for me so I'm very lucky and I've been a regular there having physio on my back everyday. Each morning it's easier to get out of bed so I can't complain and I had acupuncture on my back on Tuesday. It was the first time I've had anything like that and when they whip out all thoseneedles it's a bit daunting, but it seems to have done the trick.
Frankie Naylor has been putting me through my paces in the gym everyday and she's probably getting sick of the sight of me. Every exercise hurts with Frankie, but that's how you know you're doing it properly and she's brilliant at knowing just how hard to push you. She's also had me on the Equi-Ciser to get me back into a riding position and I plan on riding out on Friday morning.
Getting in the festive mood
I've been pretty busy but I did manage to fit in some Christmas shopping and we had the yard Christmas party the other day. I don't drink but even I didn't bounce out of bed the next day as it wasn't an early finish.
There were a few people looking a little worse for wear the next day and my housemate Eion Lane was no exception, I've never seen him look so rough. But after spending my birthday in a hospital bed, it was great to get out and see some people.
Merry Christmas everyone and thanks for reading.
You can follow me between blogs @JerrymcGrath