| | |
| --- | --- |
| | JERRY MCGRATH |
Weblog: A young jockey making a name for himself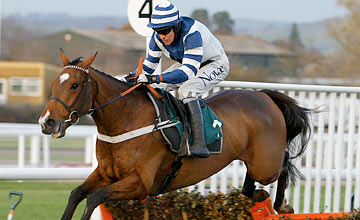 Jockey Jerry McGrath was impressed with the performace by Oscar Whisky
PICTURE:
Mark Cranham (racingpost.com/photos)
The perfect end to 2011
I'M still waiting for my first winner of 2012, I've only had two rides so far, but 2011 finished perfectly with a winner from my final ride of the year.
It came at Warwick aboard Mush Mir, who is a tricky customer, but I've won on him both times I've ridden him now and he's the sort that will certainly win more races so he's a great horse to get to ride.
He's always looking for any excuse to sulk though and I was lucky as I got the run of the race. He hates being taken on and I got a soft lead, which was a huge relief. He likes to dominate from the front, it was the same on the flat and over hurdles, but I certainly think he's up to winning another novice chase under a penalty.
A professional approach to New Years Eve
It was great to finish the year with a winner and it was my third since my comeback, which is great. I was due to ride three at Exeter so I did the professional thing and had a night in by myself and was in bed by 10.30pm, which is some going at 21.
You have to be dedicated and professional, jockeys used to get away with being a bit wild but you just can't anymore, it is a professional sport and if you're out partying you'll quickly have no rides for the next day. All the lads are in the same boat and it's so competitive for rides that you have to be so professional and it's good to get into good habits.
Non runner weather costs me some rides
Exeter was a bit of a let down for me though. Two of my horses were non runners and Proximo struggled in very testing ground. It is that time of year and we're having some real non runner weather at the moment. I wouldn't be sure where I'm riding in the next few days as we're starting to lose meetings and those that are going ahead are on ground we rarely run horses on so there might not be that many rides going while it's this testing.
Impressed by Oscar Whisky
I have to say I was really impressed by Oscar Whisky. I know he only beat handicappers, but it was the manner in which he did it and it's down to Mr Henderson and the owner, but I'd love to see him take on Big Buck's. I think his jumping may just expose him in a Champion Hurdle and he wasn't stopping. He'll have a tough job as Big Buck's looks untouchable, but he looks the main threat to me.
Two nice horses
Two horses I rode in the last week that impressed me were Prince Taime and Mister Dillon. Prince Taime had been off for over 600 days and he just blew up. I had to let him fill his lungs and he's run on to finish sixth. He'll come on for the run and has come out of the race well and I thought it was a promising run. It was nice to ride a decent horse for the Whateley's as they're big owners in the sport.
As for Mister Dillon, the ground really went against him and he ran well considering, as he wasn't liking it and I think they were three nice horses that finished in front of him.
No resolutions, just aiming to keep improving
I've not made any New Years resolutions as such, but I'm always looking to keep improving. I watch the replays of all my rides, all of Mr Henderson's runners and I like listening to the commentary and the pre and post race comments to see what was said.
It's amazing what you pick up watching yourself ride and I learn just as much watching others. Mr Henderson uses so many goodjockeys, Barry, AP, Andrew Tinkler, they're all such good riders and it's a great help to have access to them.
Everyone in the weighing room will help you, but you need to ask for it. If you ask any of the top guys, they're willing to help and Jimmy McCarthy has been especially good to me. He has so much experience and is such a big help. He's seen it all and is under-rated by many and he'll often sit down with me if I need it.
You can follow me between blogs @JerrymcGrath