| | |
| --- | --- |
| | JERRY MCGRATH |
Weblog: A young jockey making a name for himself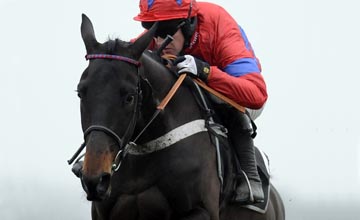 Sprinter Sacre's chasing debut on Friday is getting everyone very excited
PICTURE:
Getty Images
Such a frustrating way to return to the saddle
Well it was nearly a perfect return to action for me at Leicester aboard Global Fella on Wednesday, but it was not to be. It's hard to tell if he would have won because he was never going and I've spoken to anyone and everyone about it as I was so annoyed, but I still think I'd have got there if he hadn't lost his mind at the last.
Two miles was just too sharp for him and he was never travelling, everything was happening too quick for him and it affected his jumping as I could never get him into a rhythm. Coming into the home straight I took him wide to get some better ground and give him a better sight of his hurdles, but even that didn't help his jumping and coming to the last he tried to sneak out.
Igot him back in but he left his hind legs behind and gave me no chance. It was so frustrating because I'd just started to get him going and I think I was getting on top of Minsky Mine, who got up to win.
Mr Henderson told me not to worry, he said I'm not the first and I won't be the last it happens to, but I'd have loved to have got a win on my first ride back as it reminds people you're back.
Double the pain
Despitemy ban being nine days, Global Fella was my first ride since Sentry Duty 18 days ago, and it is amazing how big an impact a ban like that can have on you. If you're out the limelight for just a second the rides can dry up and it has a big impact on you financially, which isn't ideal, especially at this time of year.
You just need to look at the rides by Dominic Elsworth and Aidan Coleman, they were two great rides and yet they've both picked up bans, which just shows how crazy this situation is.
Hoping for a winning start
On a brighter note, I have my first ride for Henrietta Knight on Thursday. She's not given me the ride on Somersby, but it's great to be associatedwith her yard, especially on a day she's made her own. I was riding out there on Thursday morning and I ride Millers Glen in the closing bumper. I'd love to make a winning start for Mrs Knight and hopefully I can make a good day even better.
Lots to look forward to
There's plenty to look forward to over the next few days. Sprinter Sacre makes his chasing debut at Doncaster on Friday, which has everyone at Seven Barrows excited. Some people have suggested he was good enough to stay over hurdles, but you have to stand next to the horse to see just how imposing he is and I've never seen a horse take to fences the way he has. He's been electric since his first schooling session.
Darlan is another exciting young horse out on Friday and I suppose I should mention that Saturday will be my 21st birthday. I don't know what I'm doing yet as I don't know where I'm riding, but it'll be a good night I'm sure whatever we decide to do.
It's funny because I also share the same birthday as Mr Henderson. I've not suggested we team up for a birthday winner yet but it'd be great if we could as he has been so good to me.
You can follow me on twitter @JerrymcGrath between blogs.