| | |
| --- | --- |
| | JERRY MCGRATH |
Weblog: A young jockey making a name for himself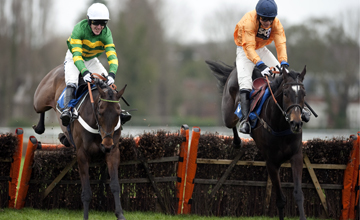 Jerry thinks Kid Cassidy (left) has an exciting future over fences
PICTURE:
Edward Whitaker (racingpost.com/photos)
Making the wrong headlines at Cheltenham

Well I made headlines at Cheltenham, but they were not quite what I was after.
Not only was I beaten a head in a photo finish but I picked up a nine-day ban, my first under the new whip rules, which wasn't ideal.
I can't make excuses, as Nicky Henderson said to me: "We may not agree with them, but you knew the rules before going out, so you'll just have to take it on the chin."
He is right, of course, and I should have put my stick down turning for home but when the leader is coming back to you and you have a chance to ride your first winner at Cheltenham, it's not that simple.
My horse, Semi Colon, ran her heart out and just for my own peace of mind as much as anything I went to see her the next morning and there was not a bother on her.
She'd eaten up and had her ears pricked, which was good to see because I'd be mortified if someone tried to suggest I'd abused her.
She needed the run but after winging the third last she got a second wind and flew down the hill.
Jumping two out one made a mistake in front of us and we were virtually stopped. We lost all momentum so for her to get as close as she did was a great effort.
No jockey likes to get beaten by a head and I was not happy afterwards and the ban felt like salt in the wound.
Both AP [McCoy] and Barry [Geraghty] said I'd given her a great ride, but with a nine day holiday I'll certainly have plenty of time to think about all the things I could have done differently.
Every cloud has a silver lining
The only good news is that my ban will give me the opportunity to pop over to Ireland for a day or two to see my family in the run up to Christmas, but I'm sure none of them would take it personally to know I'd rather be busy and riding.
In that race Mr Henderson's other runner (Kells Belle) finished third and it is always nice to get the better of a stablemate.
The lads are all so competitive with each other and it makes for a quieter life around the yard if you're not the one beaten, that's for sure.
Some exciting chasing prospects
That said, Semi Colon and Kells Belle do a lot of their work together and they go equally as nicely so I was entitled to come out ontop as she was better handicapped.
In fact, she was so low in the handicap with thought she might not get in. That run should put her spot on and it could well be chasing next for her as she's schooled well and is ready to go.
Another who I'm really looking forward to seeing over fences is Kid Cassidy, who looks likely to make his chasing debut next week.
I ride him in his work every day and he's a tricky customer. He has to do a lot of work on his own but he is one I think could have a big future and he's a lovely horse.
Talking of decent chasers...
Everyone down at Seven Barrows is starting to get really excited in the build up to Saturday, with Long Run set to make his reappearance.
He's looking magnificent and on great terms with himself. I will probably be at Ascot rather than Haydock but I, along with all the other lads there I'm sure, will be watching as he is a seriously exciting horse.
It's a tough looking race at this stage, but all things being equal, I'd be very surprised if he got beat.
With Oscar Whisky also due to run at Ascot, it's going to be a big 20 minutes for the yard.
Saturday plans
At the moment it looks like I'll be at Ascot on Saturday to ride Mush Mir in another novice hurdle.
We will carry top weight but it's a better option for him than a handicap as he's been given a mark of 137 for winning three ordinary races.
It's very harsh on him so this looks a better opportunity, though I'd say it's the lesser of twoevils given he has to carry 11st 6lbs.
It's who you know
I have been very lucky to pick up a few rides now that Charlie Brooks has rejoined the training ranks.
I've ridden his first two runners and it is always nice when a trainer as good as him wants to put you up.
I rode a lot of pointers he owned when I was riding as an amateur for Tom Lacey and Mr Brooks is a really nice, straightforward guy and a pleasure to ride for.
He trained a Champion Hurdle winner the last time he had a licence and hopefully he can find another nice one.
I also rode out for Henrietta Knight on Wednesday morning. She has such a lovely set up and I was there to school a few of the babies.
Ms Knight's horses always jump so well and this lot were no different, the whole morning lacked any drama.
The whole place has such a relaxed atmosphere, which suits the horses down to the ground and it rubs off on you. Everyone there is just so relaxed, so I loved it.
Horses can certainly make a fool of you
The strangest thing to happen all week was the behaviour of A Media Luz, who refused to start in the Greatwood Hurdle.
We don't know what it was, maybe she was coming into season, but we're just putting it down to a bad day as it can happen with fillies.
I've ridden her at home since and she's showed no signs of any reluctance so hopefully we can find something else for her soon.
It was great to see Harry [Derham] win the race, it is the sort of thing you dream of as a young rider, riding a winner in a big handicap at a high-profile meeting and he gave it a great ride.
I'm not surprised he's gone professional, missing out on a share of over £50,000 would make me reconsider things as well!
You can follow me on Twitter @JerrymcGrath between blogs.