| | |
| --- | --- |
| | JERRY MCGRATH |
Weblog: A young jockey making a name for himself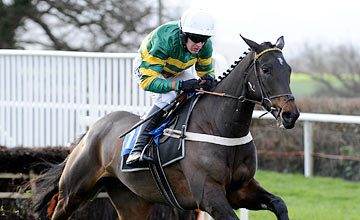 Darlan made a big impression on Jerry with his cheeky win at Taunton
PICTURE:
Getty Images
Chuffed to bits with my Doncaster double
WEDNESDAY was a big day for me. I went to Doncaster for two rides and I rode my first ever double, which is an important milestone for any rider.
Having just one winner in a day is good so to ride two was brilliant. It's a long way home from Doncaster but I was absolutely over themoon and it made the drive it go by a lot quicker.
On the way up there I thought Gores Island could place at best as Steve Gollings and David O'Meara had two hot horses in the race from the Flat plus Mr Henderson had a very good horse in the race, but mine really surprised us. He's improved so much since his last run and it was a really decent performance in a very hot novice hurdle.
The second leg of my double was always going to be an interesting race. Loose Performer is the sort of horse that could do with the experience of a bigger field and having some horses around him, but when I saw only four were declared I wasn't surprised. Then when we got two non-runners it was always going to become a game of cat and mouse.
Jason [Maguire] and I agreed at the start that he'd jump off and I'd sit on his girth to help him along and that was fine as I knew at some stage mine would jump me into the lead and I'd have to let him stride on.
He got very low at one stage in the back straight and I had to give him a slap down the shoulder, but once he turned for home he did it nicely, which was a relief. Those sort of horses are difficult to ride because he was odds-on in a two horse race and if you win it's what's expected, but if something did go wrong you're on a hiding to nothing.
My first double couldn't have come at a better time either as I'm looking for a new sponsor. It's always nice to show people what they're missing.
Keeping busy
I'm not riding today so it's good to keep myself busy and I've lots of bits and pieces to do. Once I've written this I'll pop to the bank and then the gym, then it's back to the yard for evening stables as I work full-time and when I'm not racing I help out around the yard. It keeps you occupied and out of trouble and I don't like having doing nothing to do, I prefer to be busy.
Weekend plans are up in the air
I don't know where I'm riding this Saturday yet, hopefully I can pick up a few rides, but on Sunday I'm going to Kelso to ride one for Mr Wilson. It'll be another long trip but he's such a nice man and is from Northern Ireland, so I'd go anywhere for him.
Impressive yes, but there's a ton more to come
I have tosay I was really impressed by Darlan this week. He is a bit special, but no word of a lie he's still so babyish and he'll come on so much for that. There's definitely a lot more to come, I schooled him before he ran at Taunton and he was so fresh he was bucking in between the hurdles. Barry [Geraghty] gave him such a cheeky ride and it'll have helped him mentally, but I'll leave those sorts of rides to him. God knows what Mr Henderson would do to me if I tried that.
You can follow me between blogs @JerrymcGrath