| | |
| --- | --- |
| | DAVID CARR |
Weblog: What do you mean the Wi-Fi doesn't work? The life of a Racing Post reporter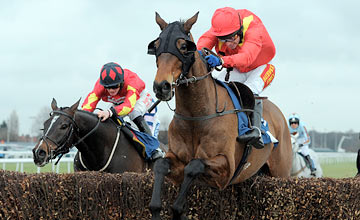 Faasel ended more than three years without a win in the veterans' chase
PICTURE:
Martin Lynch
Whipping up yet another storm
It's funny how quickly things come round again. And again. And again.
Was it really as much as five months ago we were entering a brave new world? September 27. I was at Sedgefield - with a BBC News camera crew, no less - askingall and sundry about the exciting new whip rules.
Same task at Doncaster today. Inquiring of all those who would answer what they thought about the BHA's latest amendment/climbdown/U-turn.
No BBC News team this time. Probably as this was the third time the new set-up had been revised - even though the original version had apparently been the result of an exhaustive eight-month consultation process.
Everyone spoken to was in favour of the latest moves. But almost everyone was in favour that day back at Sedgefield too - trainer George Moore was the one sceptic then, and must have been saying 'I told you so' ever since - so that is not necessarily a good sign.
I suspect this onemay still have a few 'legs'.
As does amateur jockey Peter Mason, who showed his to the world as he was out jogging on the course in readiness for the hunter chase.
The reason we got to see Mr M and his natty white shorts was that the beginners' chase happened to be on at the time he decided to stretch his legs. The TV cameras showed him get the shock of his life when he glanced round to see the field start to close on him.
Fortunately they were a fence behind when he spotted them and he had time to get out of the way - "If they had been any closer I'd have heard them," was his later, nonchalant response.
Faasel is the kind of quirky character who might decide to go for a jog in front of a field of galloping chasers were he human but he showed his good side this afternoon as he ended more than three years without a win in the veterans' chase.
He had actually been second in two Kim Muir Chases and a Bet365 Gold Cup in the past 13 months - not a bad fallow period.