| | |
| --- | --- |
| | DAN FARLEY |
Weblog: From Kentucky to the World Wide Web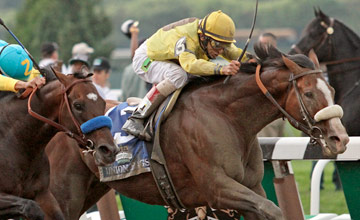 Belmont Stakes winner Union Rags scored for Phyllis Wyeth on Saturday
PICTURE:
EquiSport Photos
Reasons to reflect on aborted Triple Crown bid

AS Classics seasons go, the one that came to an end last Saturday will linger for some time.
So much was made of the 34-year gap since the most recent Triple Crown winner - Affirmed in 1978 - that even more pressure was placed on I'll Have Another and his connections to end the drought.
Those connections were, however, seemingly impervious to that pressure as they handled more than a little controversy surrounding the trainer and even the owner of the Kentucky Derby and Preakness Stakes winner.
Then the powers that be in New York racing did all the Belmont starters a disservice by instituting a detention barn to which all starters were required to be delivered on the Wednesday before the race.
The facility was reported as woefully inadequate and photos of security people rifling through bales of hay and straw for illicit goods coming into the barn emphasized just how over the top the effort to rule out foul play truly was.
It certainly was not an ideal PR tool for the sport.
Some trainers openly criticized the detention barn but their number did not include Doug O'Neill, who was maligned by the sporting press from coast to coast for his past medication violations.
Then, of course, came the sad news on the eve of the race that I'll Have Another had been compromised by a budding tendon problem and not only would miss his chance at immortality in the Belmond but would not race again.
To the credit of both owner J. Paul Reddam and trainer O'Neill, there was no hesitation in making that career-ending decision.
Who in their right mind could risk tragedy under such a bright light?
This brings me to the first of a couple of lingering thoughts.
First, I have believed for some time that all horses set to participate in a Triple Crown or Breeders' Cup event should be required to undergo a nuclear scan which could identify potential physical problems.
X-rays reveal damage already done. A nuclear scan could prevent that damage.
The cost of such a scan, which should be born by the owner, is about $500.
A longtime friend of mine, one with a great deal of experience both on the race track and on a commercial farm, told me: "We spend that much on x-rays of yearlings before they are sold on the market."
The value alone of knowing an owner is sending out a sound horse far exceeds $500.
The second lingering thought from this Classic season is a more personal one, one that involves Phyllis Wyeth, owner of Belmont winner Union Rags.
Given that I am wheelchair bound, I view the Kentucky Derby from a little porch just outside the press office in the press box. A companion on that porch this year was Mrs. Wyeth, who for some years now also has been in a wheelchair as a result of a car accident.
(By the way, the major New York tracks all have press boxes that are not accessible).
A camera was pointed in her direction for some time before the Derby and throughout the race, one in which Union Rags never got a clear run. She clearly was uneasy with the situation. Who in her shoes would not have been?
No shock then that I felt so bad for her on that occasion and was so happy for her five weeks later.
She has given of herself in recent years to make life better for people who are dependent upon wheelchairs.
That was just one more reason for me to be ever so happy for her success.
Funny how things just seem to work out that way sometimes, isn't it?
And so it is now that I say, congratulations Mrs. Wyeth, and thank you.