| | |
| --- | --- |
| | JIM CREMIN |
Weblog: At large in the greyhound world
Preparing a track does involve time and finesse
MONDAY COLUMN
FINESSE is a quality in short supply given the non-stop racing and betting pressure that surrounds everything we do. Try standing in a betting shop for five minutes.
The cacophony of virtual racing and machine play alone makes it harder to appreciate feature events. But of course when something genuinely special does emerge, as it did with Swift Hoffman's stunning Betfred Select triumph last Tuesday, it seems all the more important.
Category One winners such as Swift Keith and Viking Jack were run off their feet, while the way he pulled away from Eden The Kid more than justified his connections' excitement. There was a sense of wonderment from Pat Rosney as he floated the question: might The Hoff be another Ballyregan Bob over six bends?
Rosney, and the dog's owner Paul Scott, ruminated on what next. Monmore next month might have seemed obvious, for either the main Ladbrokes Gold Cup (three runs over 480m), or alternatively the six bends of the two-run stayers.
But Rosney is uneasy about the slowish going currently in place there, and wonders whether the routine digging up of tracks has got out of hand. That also concerns Rab McNair and Mark Wallis, with anxiety that too much is being done.
Trainers are worried that a blunderbuss approach is taken to track maintenance and the rotavation of surfaces, when time and effort is also needed to pack and seal tracks back into shape.
However, the theory of the GBGB's Track Safety Committee policy is sensible, even if its communication might have been more effectively made. Preventing tracks firming up is essential, especially with the volume of racing allied to the modern-day climate and sands whose lower clay content requires greater watering, thereby compacting surfaces underneath.
I once worked at Hove and Wembley (yes, in the last century!) when we were a bit more confident, had fewer meetings and more time.
We finessed things seeking an elusive yet ideal midpoint between your track being too loose or too firm. You want greyhounds to get a firm footing and be able to glide, for instance in the style we saw at Nottingham on Tuesday.
Properly executed rotavation, such as Nottingham's, with the sand packed back down and watered, is a positive especially in the context that summer going is increasingly challenging as the climate has become more extreme.
Remember too that injuries involve complex dynamics. Trainers in summer end up with rock-hard gallops and disrupted training regimes, while the breed is less robust due to in-breeding. Perhaps greater study could take place around improving bloodlines. That's not to mention hydration of greyhounds, or elements such as humidity.
There is also simple bad luck. Anything that can go wrong does. A greyhound is an animal with numerous bones, and they race at 40mph.
My own preference was to use hosepipes, but that's hardly realistic today given the staff and volume involved.
What our sport really needs is an automated watering system that delivers a consistent rain-like result that beats the wind factor.

Scope for change
HAVING once worked for both Ladbrokes [in the shops] and Coral [Stadia] in the 1970s, I can appreciate the anxieties staff feel about the confirmed merger. There is also cause for concern within the greyhound industry as to what service a new Ladbrokes/Coral powerhouse might need to support existing capacity.
There is the desire, and potential, for an even greater choice in terms of mixing and matching horse and greyhound racing emerging rather than just accepting SIS, Turf TV or Bags programming.
Of course it might also mean an opportunity for others were Crayford, Hove, Monmore and Romford to go down an exclusive route.
Yes, those tracks would not be getting Bags fees, but then the new company would not necessarily be paying them either – perhaps dealing directly with the tracks they actually want. It could turn into an anxious period for everyone until things settle down.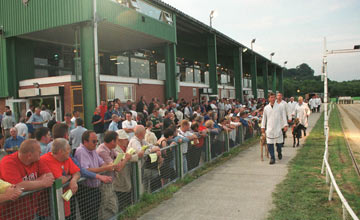 Nottingham's track last Tuesday was in superb condition
PICTURE:

STEVE NASH