| | |
| --- | --- |
| | JONATHAN KAY |
Weblog: Our chief correspondent on the topical issues
Can hurdling's champ sweep up GoY title too?
CAN a hurdler be crowned Greyhound of the Year? The common consensus has always been a resounding 'no' but Cornamaddy Jumbo's clean sweep of the 2014 jumps titles might have a few members of the Greyhound Writers' Association, who vote for the annual awards, pondering otherwise.
I'll admit to being torn as, on the one hand, the achievement of Mark Wallis's dog in winning the Springbok, Champion Hurdle and Grand National in the same year is unprecedented and, even allowing for the Champion Hurdle being an early-1990s introduction so not as historied as the other two events, only three greyhounds had previously completed a calendar year Springbok/National double.
As a rule we do not make enough of the rich history of greyhound racing, as witnessed by the shameful original plan to run the National as a two-round £2,500 event.
Sittingbourne should be given credit for finding a solution, helped by local bookmakers and an anonymous donor, which allowed for a Category One National and Cornamaddy Jumbo scooping £8,000 for his efforts but well done as well to the leading hurdlers trainers, led by Rick Holloway, who threatened a boycott if action was not taken to restore the prestige and worth of the event.
So we ended up with a worthy champion of an excellent competition, but still the nagging doubt remains about Cornamaddy Jumbo winning over sufficient Greyhound of the Year voters.
Some will, wrongly in my view, simply refuse to countenance a hurdler receiving the ultimate accolade but a point made by Ant Sealey on RPGTV last week does bear repeating, namely regarding the pool of rivals Wallis's dog has had to beat.
It's a fair observation in that hurdling was at a low ebb earlier in the year and, even though things have taken a definite turn for the better culminating in what looked a good Grand National quality-wise, flat performers such as Millwards Teddy, Newinn Yolo and Underground Paul have probably had to achieve more in winning a couple of big competitions apiece.
As things stand, I certainly have Cornamaddy Jumbo very much at the forefront of my thoughts but should any of those big recent flat winners add another title before the end of the campaign then that could yet prove decisive.
Millwards Teddy is the first of the trio to be back in action when he lines up in the heats of the £25,000 Williamhill.com St Leger at Wimbledon on Saturday, a competition crackling with top prospects which should confirm the start of a new era in staying racing – just 15 of the 48 acceptors were born before 2012.
And, as eagle-eyed Champagne Club chairman Steve Fluin pointed out, that includes all five finalists from last year's Puppy Derby, namely Bubbly Beauty, Droopys Dave, King Kane, Droopys London and Chicago.
It is a shame that Farloe Tango is not able to defend the title he won in breathtaking, Greyhound of the Year-clinching, fashion last year although indications were that he was not the irresistible force of old even before a bad cut sustained at Doncaster sent him into retirement. Perhaps remembering him as he was in that glorious pomp is better.
This is a competition which has looked ripe for a late improver for while now and nothing is improving faster or more spectacularly than Jim Daly's Touch Tackle after his Sittingbourne track record on Sunday made it three wins in three staying starts, while it is good to see that a fair-sized northern team is travelling headed by Great North Run winner Airmount Paco plus Irish raiders Ballymac Bonnie and Barefoot Agent.
Doubtless a large crowd will be attracted to Wimbledon for the Leger heats and it is great that many more nationwide will be able to tune into the action live on Racing Post Greyhound TV. I clearly have to declare an interest, but for me a big event lacks something if it is not televised as it's just not staged in front of big enough an audience.
Also televised this weekend is the £10,000 final of the RPGTV Henlow Derby on Sunday and I plan to be there to see a successor to Shaneboy Spencer crowned.
The way the draw has worked out with her Leamaneigh Turbo as the sole seeded runner it might be back-to-back wins for Liz McNair but what a shame we had to wait until Monday morning for the draw, and behind closed doors at that.
Would it really have been that difficult for Henlow to do it on Sunday night? Drawing six names, five really with Leamaneigh Turbo being guaranteed six, should not have proved too onerous a task and, with the draw clearly crucial to the claims of the five railers, I'd have felt short-changed as a connection and even a racegoer being made to wait.
Advice to tracks, even if it cannot be stronger than that, from the GBGB regarding public relations would not go amiss.
*Henlow have been in touch to say the RPGTV final trap draw was in fact made in the bar area after race 11, as per a Tannoy announcement. However, it was not circulated until Monday morning leaving at least one trainer of a finalist in the dark.
You can follow me on Twitter
@jkgreyhounds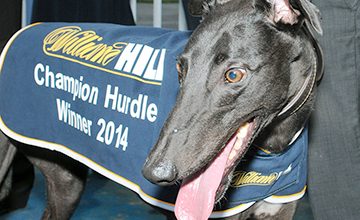 Cornamaddy Jumbo: in running to be Greyhound of the Year
PICTURE:
STEVE NASH