| | |
| --- | --- |
| | JIM CREMIN |
Weblog: At large in the greyhound world
Tango on a par with Bob? That is pushing it
Monday Column
THERE was a sense beforehand that Charlie Lister's biggest problem in the final of the William Hill St Leger was going to be managing the disappointment of his three sets of 'other' owners.
To get four into the decider was a remarkable achievement, but Lister, when I rang him after the semi-finals for the Trainer Views feature, said of Farloe Tango: "There's something of an unexpected revolution happening with him, he's suddenly being described as an exciting dog who's a real crowd-puller! We always thought him special, so to see him termed 'quirky' and the like was disappointing."
In terms of Lister-speak this was as upbeat as I've ever known him, and his dog certainly did the business, breaking the track record.
The Leger is the staying Classic, and it always looked likely to be exceptional during this year's William Hill Derby.
Farloe Tango reached the quarter-finals, missing out by half a length to third-placed Bouncy Bocko. When it came to the Leger only the injured Bouncy Bocko and Droopys Ed Moses (now back on track) were absent big names. It would have been fascinating to see them in action – remember, Bouncy Bocko beat Farloe Tango in the six-bend open on Derby final night.
Form stood up through the Leger, with the result the final looked more competitive than some had expected beforehand. Farloe Tango faced a tough race given the quality of opposition.
As it turned out, he trapped, and although dropped back to fifth early, was always going well and blew the field away down the back.
Comparisons to the style of Scurlogue Champ are appropriate, although Farloe Tango doesn't drop himself out totally, reached last year's Betfred Eclipse final and is a true six-bender. Scurlogue, during the mid-80s, captivated racegoers by the way he would suddenly change gear in marathons – taking off is what Tango does too.
Breaking the track record in a Leger final, as a former Lister star Spring Rose also did at Wembley in 1996, helped her to be acclaimed Greyhound of the Year. Tango, as it stands, gets my 2013 vote.
But is he better than that other 80s superstar Ballyregan Bob? There is no way to answer that other than opinion, and mine is Ballyregan Bob was the greatest six-bend runner ever. He flowed round the bends and destroyed opposition.
Bob didn't win a Leger, although getting withdrawn lame from the 1985 final is pretty close as he was long odds-on for it. The fact is he had to be nursed for the remainder of his career, which turned into a campaign to better the world record of 31 straight wins.
HE did just that in December 1986, in the Racing Post World Challenge, when the BBC Nine o'clock News was interrupted to show the race live. That proved one of my better ideas for a sponsorship.
So was Bob as exciting as Tango, Scurlogue or Westmead Hawk, the dual off-the-back Derby winner in 2005-6?
Well, he was as thrilling over four bends, but over six it's a no – he instead became a ruthlessly elegant running machine. Tango is the more exciting six-bend runner.
In a year when the kennel achieved the Derby/Leger double, you wonder if Lister might now add Wednesday's Betfred Eclipse prize at Nottingham. There is again a stellar line-up and his Aghaburren Paddy is the 20-1 outsider – yet the best stayer.
It's certainly been a quality year, one that really started with Ballymac Eske in the Racing Post Juvenile, and the edge provided by the 2013 GTA Trainers Championship, sponsored by Ladbrokes, has richly added to the mix.
Monmore's Lol Jones Memorial Festival (four Category Two events, heats Monday December 9, finals all worth £5,000 to the winner on Friday, December 13) might well prove crucial to that trainers' battle.
The 684m there will be Tango's next race – and, unlike Ballyregan Bob, he won't frighten off opposition. Being 'vulnerable' is exactly what makes him so rousing. If you can, keep the dates clear to get down to the betting shop and watch him.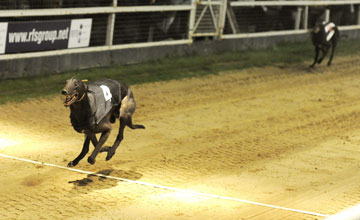 Farloe Tango: captivates racegoers when he takes off for victory
PICTURE:
STEVE NASH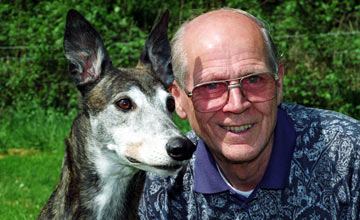 Ballyregan Bob with his trainer George Curtis
PICTURE:
PAUL DUFFETT