| | |
| --- | --- |
| | JIM CREMIN |
Weblog: At large in the greyhound world
Deadline for Derby dreams is drawing closer
THE MONDAY COLUMN
TWO months tomorrow will see the closing date for the 2015 William Hill Derby, carrying a record first prize of £250,000.
Noon on Tuesday May 19 is the Wimbledon deadline, 24 hours earlier than the traditional Wednesday during trials, mainly to allow time to assess what is expected to be a huge entry – drawn by the massive sum, but also the fact Salad Dodger's triumph last year proved it's not just about the big names.
There was an echo of this last week when the Betfred Cheltenham Gold Cup might of Willie Mullins and Paul Nicholls was eclipsed by Mark Bradstock's novice Coneygree. Incidentally, the headline prize there was £313,225, but the owner actually picked up £239,690.
Dreams can, and do, come true, and the greatest one of all will start, live on RPGTV, on Thursday May 28 . . . although there is a provisional overflow slot for the Wednesday night before. Unless that is needed, the first round will be run on Thursday 28, Friday 29 and Saturday May 30.
RPGTV intends to show the draw live on the Sunday afternoon of May 24. This is more complex now with initial guarding of owners for the first two rounds, but this will also be the first Derby since the days of White City with an equal distribution of seeds.
Personally I hate the change, draws have become trickier to make and follow, and it's all become overly fussy. But my view seems to be in a minority of one!
Leading up to the world's longest draw, sorry, world's greatest race (final Saturday June 27), William Hill are planning a series of eight 'win and you're in' one-offs for early May. Details are to be confirmed shortly, but Newcastle will be definitely involved plus a selection of other tracks, including possibly one or two in Ireland.
These will carry a generous £2,000 prize, plus free entry to Wimbledon (normally £250). And when a greyhound wins one, it can't hoover up another.
Complicating the picture is a tightening on rules governing the movement of greyhounds between Ireland and Britain, which patently fails to recognise the existing stiff framework of regulation.
The GBGB Calendar (gbgb.org.uk/transfer-from-Ireland.aspx) gives the latest state of play regarding the controversial Balai Directive, which affects greyhounds being sold.
Basically, anyone buying a potential Derby dog needs to be a bit more careful. Keenly aware of the risk of switching off potential clients, a Greyhound Group has been formed in Ireland on behalf of all interested parties, while the Irish Greyhound Owners and Breeders Federation have also been on the case, all emphasising the waste of time of time and money that has been unnecessarily imposed.

THERE was a moving tribute to the memory of Frances Chandler at the recent funeral of the former matriarch of Walthamstow Stadium.
Mistakenly, I had always thought the Stow (1933-2008) safe as long as Fran was alive, but financial pressures intervened.
Although unconnected with her February 3 passing, what has actually happened since is the redevelopment of the old site kicking on with incredible speed. The shell of 292 flats is now in place, and it's all expected to be completed by July next year.
The iconic Walthamstow Stadium frontage remains, which will please some, although others may find it sadly unbearable.
What's striking, though, is how the 292 flats being built looks a full use of this large site. This emphasises how the 602 flats proposed for Wimbledon Stadium is an entirely ridiculous number. Being on a flood plain too, this would significantly increase the risk for existing residents.
Galliard Homes and AFC Wimbledon have gone for the jackpot in the hope Merton's decision makers are blinded by football's allure.
Financially it looks as if anything less won't pay off, and realistically, it's the proverbial quart into a pint pot. Greyhound racing, however, fits the site perfectly.
All we need now is the showcase proposed by Paschal Taggart. Galliards and Taggart together, oddly enough, would be a better fit for all, especially anxious local residents.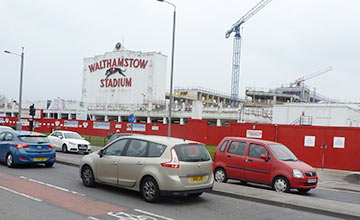 292 flats being built on the Walthamstow Stadium site