| | |
| --- | --- |
| | JIM CREMIN |
Weblog: At large in the greyhound world
Towcester's margin calls
will be interesting
The Monday Column
I WONDER how many people noticed the difference with the traps from Towcester's opening meeting to Saturday's? They had a new white coating, whereas previously they stood in original stainless steel – sturdily utilitarian. A powder coating later, and they shone elegantly on Sky, reminiscent of those at White City.
Markedly different from White City, however, is Towcester's hare driving. Wembley, where I worked in the 1980s, once borrowed White City's hare driver and I remember being taken aback by how far he took the hare away from the field. He explained there was a conservative policy in place there as punters tended to moan if they noticed the hare during the race. We asked him to drive a bit closer.
His point, though, was true. I had been trained at Hove in the 70s where visiting punters used to express amazement at the 'shortness' of our hare. That was designed to try to keep those dogs at the back interested. But large-staking shrewdies tended to lump on front runners, and worried about their dog drifting wide. The fact short runners tend to drift wide anyway seemed to escape them.
Towcester has embarked on a similar policy to Hove – although we got an accidentally extreme example with the breakdown of the mechanism which marred Saturday's first Sky race and the field caught the hare!
But with regard to the more general policy, Chris Page, Towcester's vastly experienced racing manager, explained that when a longer hare had been driven in trials, they noticed those runners behind tended to cut in towards the fence. This is a side issue from building a track which has such massive bends, but comparatively short straights.
Also evident is that early meetings have been dominated by front runners. A view is that they bowl along in front, enjoying themselves without having to brake on the turns.
This will even itself out as runners get used to the track and the kennel strength improves – certainly Supreme Rossie was well able to handle coming from the back in her two marathon victories for Stuart Buckland. Paceless early, she loves it there.
Margins, 144 on the first night, settled down to 126 on Friday, and 127 this Saturday. And yet Sunday's Racing Post carried biting criticism of an eight-runner Kempton all-weather handicap on Thursday where the over-round was 125. A 'target' of 110 was mentioned, although it's not clear where that comes from.
It used to be seen as reasonable for greyhounds to bet to three per cent per runner – ie. a 118 book, with two per cent generally applying in more competitive horseracing.
However, I remember moaning about margins at Pelaw where a bookie caustically replied it wasn't so much the margin, but whether a bet was laid.
"Punters want to get a good bet on, and that's what we deliver," he barked. "Theoretical margins are meaningless when there's just one dog being backed." Tony Johnston, who works with Nigel Flowers on his Towcester pitch, reckons "SP is just an indication, an average, there is often a better price available".
Both are fair points, but margins have crept up in greyhound racing, permitted by what feels like an unspoken but unholy alliance between bookmakers and managements.
On-course totes also have become uncompetitive so Towcester's 18 per cent tote winpool retention (equivalent to a 122 book), which beat SP in seven of Saturday's races (one tie) is now seen as generous.
Compare it to the average SP margins at other tracks running on the night: Belle Vue 126, Crayford (morning) 128, evening 121, Newcastle afternoon 129, evening 125, Romford (am) 129, evening 124, Wimbledon 125, Yarmouth a dire 149. Shelbourne on Saturday came in at 132, but its Friday was more representative of Irish margins in general at a depressing 160.
Towcester's ring should aim for closer to the 118 ideal, while the totepools there may yet build into being an industry leader. Who knows where that may lead?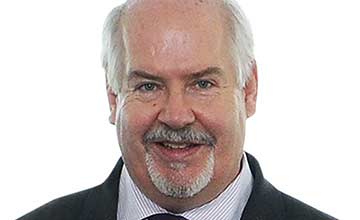 Chris Page, Towcester's RM: The greyhounds will be able to see the hare!
PICTURE:
STEVE NASH